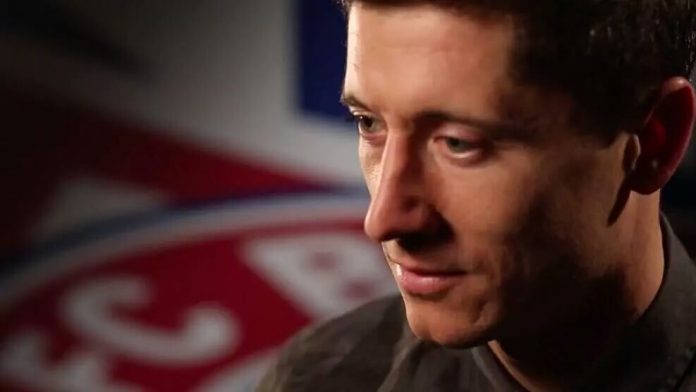 If you look across football today, there is something that strikes you immediately! The alarming shortage of top class strikers. At the moment, even world champions Germany start matches without an out and out striker. Five time World champions Brazil have no number nine. Last summer, top clubs around Europe were scrambling for strikers. Manchester United played games early in the season with Marouane Fellaini upfront before taking a massive punt on a 19 year old from France. Granted Anthony Martial looks a top top player and has all the ingredients to stay at the top of the game for a decade but United being boxed into a corner to pay that much highlights this shortage.
Part of the problem has to do the system/formations prevalent in football right now. The 4-4-2 system has gone virtually extinct and has mostly been replaced with various variations of a 4-3-3. This means that the wingers now are basically 'forwards' – not wingers – and are expected to come in and contribute goals a lot more than say 10, 15 years ago where the job of winger was almost exclusively to get to the byline and cross the ball. Take David Beckham for example, if he played today he would have had to contribute a lot more goals and I think there's a high chance he would have been pushed to central midfield rather than on the wing like an Alexis Sanchez or Neymar. And if Alexis and Neymar were around 15 years ago? High chance they'd be part of a striking duo.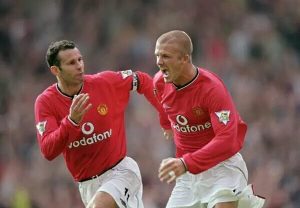 David Beckham might have presented a problem for coaches in today's game
The game has evolved and what the coaches demand has also changed. Coaches do not want strikers who just score goals – crazy right!? Isn't a striker's job just to score!!? –. Rather, they want more all-rounders. Players who can play on the wing, through the middle, as the number 10 say Rooney, Van Persie, etc.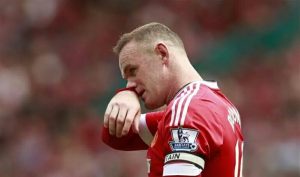 I remember a compelling argument I had few months back with a couple of mates and I was of the view that if someone like Inzaghi had been trying to come through today he would have found it more difficult than he did before. Why? His type of players are just not produced anymore. Not that they 'don't exist' but simply because the coaching system and demands have evolved. A player like Javier Chicharito Hernández struggles. Why? Definitely not because he does not score goals but rather because he 'just scores goals'. Arsene Wenger was quoted a few months back by The Guardian saying "What I am convinced of is that in the academies we have to specialize the players," Wenger said. "There is an age from five to 12 where you have the acquisition of the technical skills; at 12-14 you start to develop the speed and physical qualities; but from 14 onwards, when you start to position the players for their careers, maybe you have to work with specificity of a position again. Maybe we have to rethink completely the education and specialize earlier."
Although I may not agree with everything the Great Frenchman says, – no, I am not being political here! – I do agree with this. Out and out center forwards are few and far between and for a position so vital on the football pitch, it is quite shocking.
Robert LewanGOLski is one of the few left and shows that all hope is not lost for the classic center forward. The Polish striker has been on fire this season. With Bayern 1-0 down at home to Wolfsburg sometime in September, Lewandowski came on at half-time to score an astonishing five goals in 9 minutes! Lewandowski's five goals on the night were the most ever in a single Bundesliga match by a substitute. His four minute hattrick in the same match also clocked as the fastest ever Bundesiga hattrick. The Polish no 9 did not stop there, he followed that up a brace four days later then a hattrick three days after that! Then another brace in Der Klassiker against an in-form Dortmund side before the international break.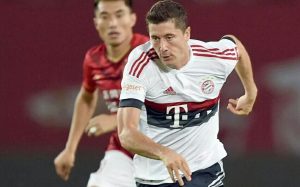 Robert Lewandowski shows that the number 9 is still important
Lewandowski is like your old fashioned center forward in the sense that he is a number 9 and cannot play anywhere else. Even Pep Guardiola of all people recognizes this. There are no experiments – hello center back Alonso, creative no. 10 Alaba!! – With Lewandowski. Lewandowski is probably part of a dying breed and he further enhanced his reputation over the last international break. The goal against Ireland that effectively booked his nation's place at next year's European championships was a thing of beauty. A classic diving header! Since his freak performance against Wolfsburg in late September, Lewandowski has found the net 15 times. Remarkable feat that!! Buttresses the point that there is still a place for a traditional number 9 on the football pitch!
Article by: Offonry Nkay. 
FokkoFollow him on Twitter: @swaynkaayyy 
Comments
comments