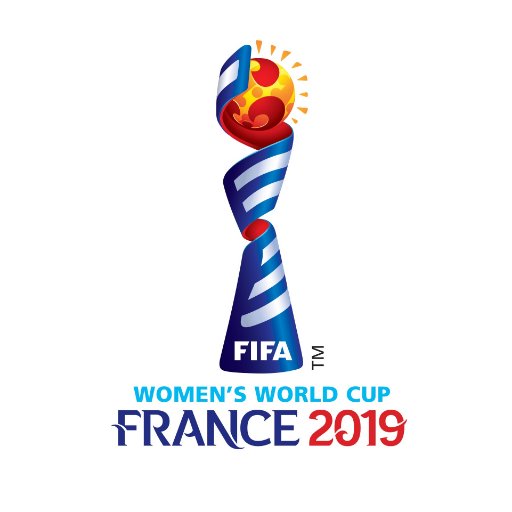 It's the final round of group stage matches for the FIFA Women's World Cup in France. While some teams have already booked their ticket to the next round, other teams will almost certainly be booking tickets back home. And then there are those in between, with hopes of making it through to the next phase but who can still go home early? Let us help you navigate through them.
---
Teams Already Through To The Next Round 
9 slots of the 16 available are already taken. Hosts France from Group A have six points and a +5 Goal Difference after wins over South Korea and Norway. By virtue of their victory over Norway, they will almost certainly top the group. They will need to lose in the final round of group matches against Nigeria by a handsome margin for the impossible to happen.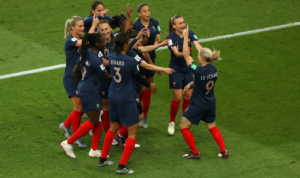 In group B, 2007 Champions Germany have also secured qualification to the next round of the World Cup with six points from their opening two games despite scoring only twice so far. 1-0 victories over China and Spain.
Italy's surprise last gasp winner over Australia in their opening game set them up well to qualify from the tricky group C. Their more convincing 5-0 win over Jamaica sealed qualification for Le Azzurre for the first time since 1991.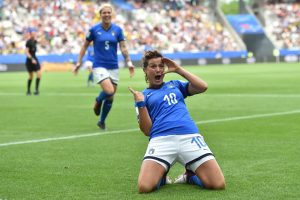 Group D already has two teams who are guaranteed a spot in the next phase, England on six points and Japan on four. Both with wins over Scotland. While the Lionesses found a way past Argentina's tenacious defence while Japan huffed and puffed to a 0-0 draw against the Albiceleste.
The Japanese have an unassailable lead on two of the six third-place teams and as such are guaranteed a berth in the next round at worst as one of the four best third-place teams.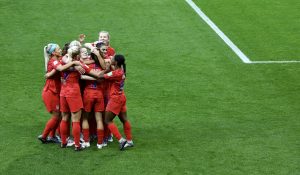 The top two teams in Group E are going to be Netherlands and Canada without doubt. The final round of group games will decide in what order they will finish. They play each other knowing that they have both secured passage into the next round but will be hoping to avoid finishing second and risking a second round match up with USA or Sweden.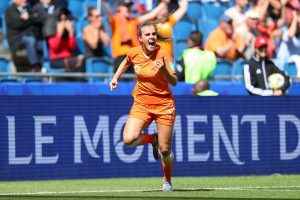 Group F is very similar to Group E. USA and Sweden have six points from a possible six and the showdown between the two will decide who will top the group.
---
The Three-Pointers 
There are currently six teams from three groups who have three points going into the final round of matches at the World Cup. Three of those teams are in second place and three are currently third and in with a chance of qualifying as one of four best losers.
Nigeria and Norway squared off in their opening game and the Scandanavians came out on top with a resounding 3-0 win but lost their subsequent match to hosts France while Nigeria overcame South Korea 2-0. A win for Norway would see them on six points and almost certainly qualify them for the next round.
A win by more than three goals combined with a Nigerian win over France would mean they usurp the hosts as group winners at the World Cup. A draw would also see them through either as group runners up or one of four best losers.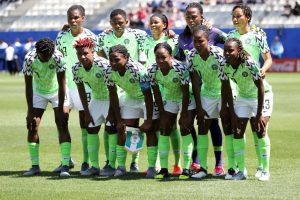 As for Nigeria, they could qualify automatically as either runners up of the group or as one of the best third place teams if they get any result of repute against hosts France who are already through to the next round.
A win would be great, a draw good and even a minimal loss could take them through as well with most of the teams capable of overtaking them on the rankings of third place teams having much worse goal difference than Nigeria. They have three points with a goal difference of -1.
The closest of the bunch that could cause them major problems is Scotland on 0 points with a goal difference of -2 followed by Cameroon, New Zealand and South Africa with 0 points as well but with goal difference of -3.
In Group B, China and Spain face off in the final group game knowing a draw would qualify both teams with Spain finishing second and China finishing third based on current goal difference. A win for either team however could jeopardize the other's chances of finishing as one of the four best third-place teams.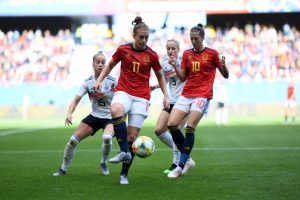 Spain currently with a GD of +1 would be less likely to be in any trouble if they lose than China who are currently on a GD of 0. A bad enough loss could see them leapfrogged by any of the same countries threatening Nigeria as well as the Super Falcons themselves.
Australia fought tooth and nail to secure three points against Brazil in the second round of the group stage matches after a shock defeat in the first round to Italy. The comeback victory from 2-0 down sees them top the rankings of third place teams with 3 points and a GD of 0.
They will be looking to do better than a third place qualification however when they face the Reggae girls of Jamaica whom they are widely expected to beat. A win or draw will see them through but a loss will mean squeaky bum time.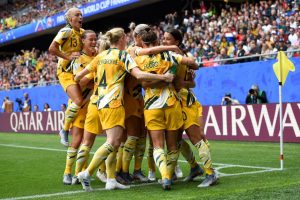 Brazil currently sit second but are equal on points with Australia in third. They have a healthy goal difference of +2 but will be looking for all three points against Italy who have already made it to the second round. A draw will also qualify them for the next round and just like with most of the other teams on three points already, a minimal loss could still be enough for the Selecao.
The Albiceleste's first ever point at the Women's World Cup gives them a fighting chance of making the second round. They are currently the fourth best third place team but with much less room for maneuvering than the three teams above them.
A win will see them qualify outright and they could even leapfrog Japan into second place in Group D depending on the result of the game between Japan and England. A draw or a loss could complicate matters for Argentina as that would make it possible for eight teams including Scotland whom they play against to surmount them in the ranking of third place teams.
---
Hoping For A Miracle 
Although no team has been completely mathematically ruled out, teams who so far have aggregated a sum total of zero points will face an uphill task to qualify for the round of 16. They all need outright wins and then some if they are to habour any hopes of continuing their journey in France.
South Korea in Group A need Nigeria to lose to France as well as needing to beat Norway by upwards of four goals to stand any chance of finishing third. A very hard ask for a team who are yet to score so far.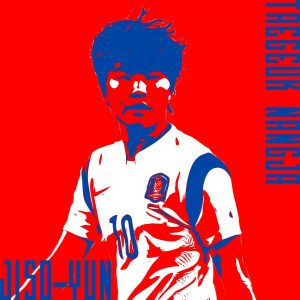 South Africa in Group B might count themselves unlucky to have surrendered all three points to Spain in their opening match, but they had no VAR controversy to lumber their loss to China on. The losses left them with no points and a GD of -3.
They still have a fighting chance of making the second round as a win with a margin above two for them combined with losses a loss for Nigeria, a loss or draw for Argentina and teams like Cameroon, New Zealand and South Korea either failing to win or winning with smaller margins will see the Banyana Banyana qualify for the round of 16 in their debut tournament. Just so their task doesn't seem too easy, they also happen to be facing Germany in their final group game.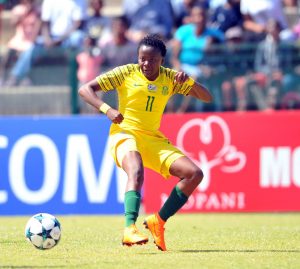 In group C, Jamaica have goalie Sydney Schneider to thank for keeping their goal difference at just -8. Without the 19-year-old shot stopper, the tally could have been much worse. Currently, the Reggae girls are second from bottom of the entire World Cup with only Thailand having a worse record than them. It would be a gargantuan effort for Jamaica to get the better of Australia before we even think of them overturning their goal difference to the point where they stand a chance of qualifying as one of the four best third-place teams.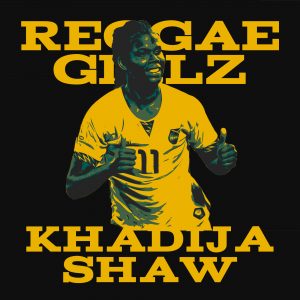 Scotland in Group D had high hopes pre-tournament and will be disappointed to have not picked up any points so far. They have the opportunity to change all that against Argentina in their final group game. A win over the defensively resolute Argentina could see them leapfrog both Argentina and Nigeria in the rankings of the best third place teams. This is of course assuming Nigeria fail to record any points against France.
Cameroon and New Zealand both know that they will need to get a result in Group E to stand any chance of qualification. They face each other with very similar results from their first two matches. Both with no points and -3 goal difference. Cameroon only above New Zealand by virtue of Aboudi Ounguéné's consolation against the Netherlands. They need a miracle similar to what Scotland needs a huge win with defeats for the teams who are currently placed above them in the rankings for third place teams.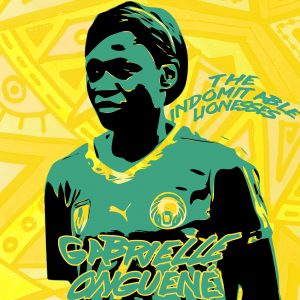 Thailand celebrated Kanjana Sung-Ngoen's consolation goal against Sweden wildly and it showed what it meant for the Chaba Kaew. They were simply happy to have left a mark on the tournament and they seem to know that journey is close to being over. A 13-0 loss to the USA in their opening game set the tone for their tournament and the 5-1 loss to the Swedes all but ended their hopes of making to the next stage. To qualify, they would now need to win their next game and somehow overturn most of their -17 goal difference. It looks like they have come as far as they can with their maiden Women's World Cup sojourn.
https://twitter.com/WoSoViewer/status/1140271913958367234?s=19
Fellow debutantes and Group F members Chile have a less arduous task ahead of them, but are still posed with a mountain to climb. A five-goal deficit accrued from losses to Sweden and the USA mean that Chile are currently the bottom-ranked third place team at the tournament. They are however facing Thailand who have conceded 18 times in their last two matches and as such La Roja will be confident of putting a few goals past them to better their chances at Qualification. A large enough win, combined with losses for other teams on 3 points should be enough to qualify them for the second round.
Article By: Ayoola Kelechi
Comments
comments