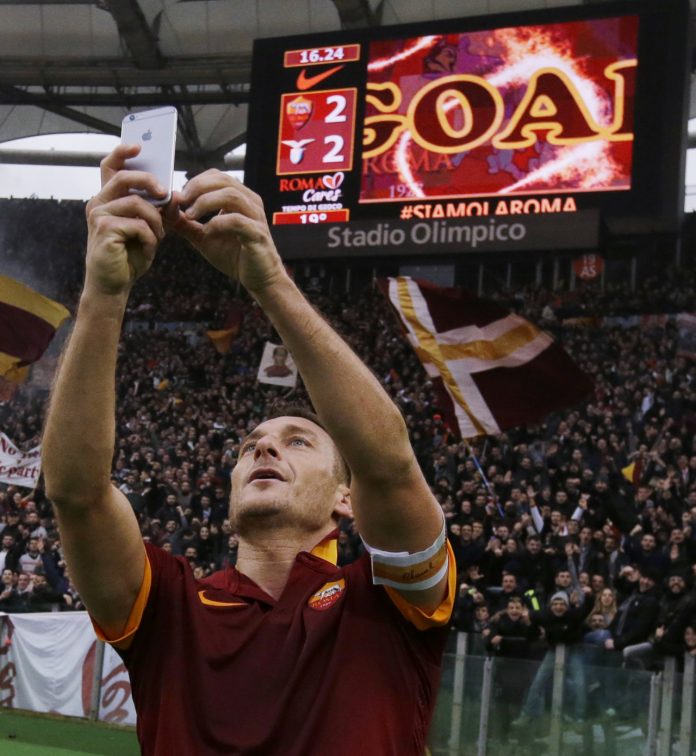 Goals are the lifeblood of the beautiful game, whether it's a scrappy own goal or a 40-yard screamer, they bring out unbridled emotions in the scorer and the fans of the team that scores. This usually leads to different ways of celebrating the goal by the scorer and sometimes his teammates. From the sublime to the downright ridiculous, we've been treated to some unforgettable goal celebrations over the years. Let's take a look at a few worthy mentions from this decade as it comes to an end.
KEI KAMARA (NEW ENGLAND REVOLUTION, 2016)
The Sierra Leone forward was already quite known for expressing himself with intricate dance moves during his stint in England with Norwich and Middlesbrough, but on this occasion, while playing in the Major League Soccer in 2016, he took it a step too far. After scoring for New England Revolution, the stocky frontman proceeded to perform a 'twerking' session, much to the disapproval of the centre referee who proceeded to give Kamara a booking for his antics.
ANTHONY UJAH (FC KOLN, 2016)
Feed the goat & Ujah will score. Bizarre celebration of the day: Anthony Ujah dancing with FC Cologne mascot Hennes. pic.twitter.com/SdjQS5CZGu

— John Bennett (@JohnBennettBBC) March 8, 2015
The prolific forward is a bit of an enigma back home in Nigeria, as fans still wonder why he was unable to translate his club exploits (particularly in Germany) onto the international stage. One thing he does know, however, is how to make an impression after hitting the back of the net. This he did in somewhat bizarre fashion in 2016 while playing for FC Koln against Eintracht Frankfurt. After notching in the 82nd minute, Ujah attempted to take the club's mascot (A billy goat) for an unexpected ride. The pacy forward apologized a few days later and did a photo op with the mascot to bury the hatchet.
MARIO GJUROVSKI (MUANGTHONG UNITED, 2012)
From the ridiculous to the downright obscene. The Macedonian midfielder shocked onlooking fans with a baffling celebration routine after scoring for the Thailand outfit in the early part of this decade. After netting a sublime chip in a much-needed 2-1 win over TOT Sport Club in the Thai top flight, he proceeded to take off his shorts, put them on his head and make shooting gestures towards the crowd. He was subsequently given his marching orders after putting his shorts back on.
FRANCESCO TOTTI (AS ROMA, 2015)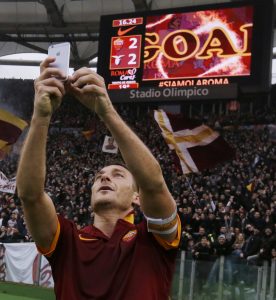 Now for a more illustrious name on this list. The Italian World Cup winner put on a superb attacking display to score a brace in a fierce derby game against SS Lazio back in 2015, but what was more memorable was how the Roma legend sought to celebrate his 2nd goal which was the equalizer. Totti vaulted the advertising boards, requested for a mobile phone, stood with his back to the fans and took what would go on to be one of the most iconic football photos.
HIDETOSHI WAKUI (FK NOMME KALJU, 2014)
Hidetoshi Wakui of Estonia's #NommeKalju, produced this bowling pin celebration after a goal. #ThrowbackThursday pic.twitter.com/FZ3ZdzX4VW

— World Soccer Talk (@worldsoccertalk) February 4, 2016
Finally, from a famous name to a more obscure one. Japanese midfielder Wakui showed his creativity in notching a goal as well in the goal celebration that followed. He picked up the ball after scoring, ran to the corner flag with his teammates behind him and in one of the most synchronized goal celebrations you'll ever see, he turned and rolled the ball towards his teammates who had taken up the formation of bowling pins, and they all tumbled as the ball got to them in the same fashion as a 'strike' in bowling. A truly memorable moment.
​
​Article By: Eddy Okaro, @King_Arinze
Comments
comments