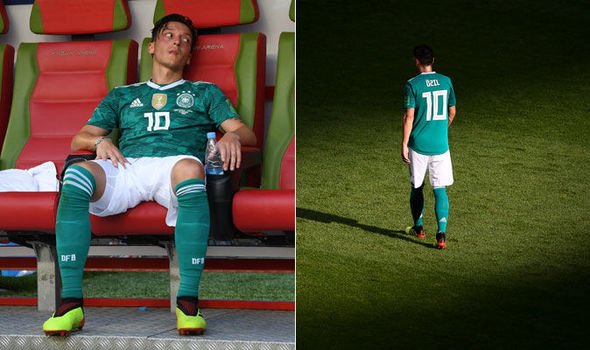 Winning a World Cup as a player doesn't make you any smarter, and successfully running a top club doesn't make you empathetic or a palatable human being. Mesut Özil is in a predicament which makes that much clear.
To call what has happened to Özil a disgrace would be an understatement. The debacle goes back to a photograph he took with Turkey's President Recep Erdogan (alongside fellow German international of Turkish origin Ilkay Gündogan). Not the leader of a terrorist organization or a drug cartel kingpin. The head of state of his parents' country of origin.
The picture was followed by wave after wave of attack, threats and insults even from elected German Government officials both before and after Die Mannschaft's ill-fated World Cup title defense. Some questioned his 'loyalty' to Germany and the national team. Never mind his 90 senior appearances or the countless times he cried after a defeat or rejoiced after a win.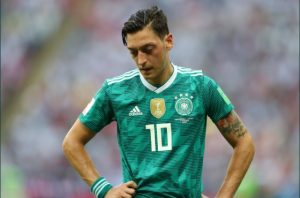 Admittedly, Erdogan's standing on the world stage is controversial because of his absurd approach to democracy. Fans booed him from stadium to stadium whenever he touched the ball, even though he was 'one of their own.' They did so not because he played 'badly' (he was booed even when he scored in their friendly against Austria), but because he honored an invitation from the President of the country of his Parents' origin.
That was his great crime. That was why after the game against Sweden, a German fan called him Turkish shit, a Turkish pig, with full knowledge of how pigs are viewed in Islam, Özil's religion. Or maybe it was something else?
Maybe there's another reason why when Mats Hummels' slip allowed for a swift counterattack against Mexico that led to a goal, it was the midfielder who got criticized for the loss. Let's all act like he did not sprint more than the entire length of the German half trying to foil Hirving Lozano's attempt which eventually beat Manuel Neuer at his near post.
There must be another reason, a more plausible one, as to why even though he put chances on a platter of gold for Timo Werner, Leon Gorexta and especially Mats Hummels against Korea, he was the one who bore the bulk of the backlash in the aftermath. They all missed these chances (11 of them), lost 2-0 to Korea and crashed out of the World Cup. Somehow Özil has been made the poster boy for Germany's catastrophic campaign.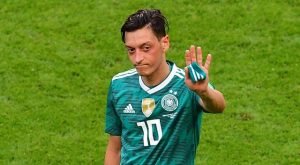 Suddenly, his performances with the national team are starting to undergo intense scrutiny, with some influential people drawing their own timelines for when his performances started to nosedive. Some said four years ago, accusing him of ghosting through the 2014 World Cup, being 'carried' to the medal. Suddenly there is amnesia for the fact he started every game at the tourney and was substituted only thrice. Twice after the 80-minute mark.
Some said two years, overlooking how he was named German National team player of the year in 2016, how he helped the national team with five direct goal involvements (four assists and one goal) in the six World Cup qualification games he played in. These inane things were suggested while of course ignoring and even laughing over the things that Özil says he went through at the hands of high handed DFB officials, politicians, the German media and fans.
The DFB on their own part have taken a step forward in their open letter concerning Özil's retirement, apologizing for their involvement in his tribulations and acknowledging that rather than offer support to their player, they left his side and joined the accusers. They however took a step back, by saying that Özil could simply have avoided the situation by answering the queries set before him. Queries that should never have been made in the first place.
Rather than try to understand his point of view, empathize with him or just stay out of it all together, Uli Hoeness decided to pick now, of all times, to further castigate Özil. He of all people should understand the importance of having support in tough situations, considering how he had to garner support from his club, and several German football fans during his own trying times. He was privileged to this outpouring of support because of what he had done in the past for Die Mannschaft and Bayern Munich.
Uli Hoeness Criticism
Is it that Özil hadn't represented the National team well enough or was a bad person off the field? 92 caps culminating in World Cup gold and bronze medals, 2 European Championship semifinal appearances, 23 goals and a German record 40 assists as well as the charities he has partnered with would suggest this is not the case.  Yet, here we are.
Hoeness has elected to toss unfounded comments about, further disrespecting the player in question. These are comments which at best sound unusually ignorant for a top footballing executive and at worst, are complicit in the type of unfair treatment Özil has had to go through. Comments which Lothar Matthaus has found hilarious saying he "could never speak against Uli." Bewildering.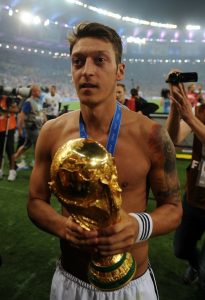 These type of comments that seem to be reserved for only Mesut Özil.
"He hasn't made a tackle in 4 years".

"He's being carried by the rest of the team, and has been 'crap' for years".

"He's hiding behind the picture to retire".
Now, seeing as this is the first time Hoeness is speaking publicly about how terrible Özil has been despite having 'years' to speak up.  Perhaps it is he who is hiding behind this whole facade to finally air his long-kept views about Özil. Wrong as he may be.
This leaves me to wonder just what part of Özil standing up for himself and saying "People with racially discriminative backgrounds should not be allowed to work in the largest football federation in the World that has many players from dual-heritage homes" has rubbed Mr. Hoeness the wrong way and caused this outburst. We may never find out, but we can investigate some of his wild claims and things he suggested.
Is Özil as lazy as the naysayers would have you believe? Does he simply stand around and play meaningless crosses from side to side?
During the World Cup Mesut Özil covered an average of 10.1km per 90 minutes. That is already quite something but becomes even more impressive compared to midfield war horses N'golo Kante and Casemiro who averaged 10.5km, Wilfred Ndidi (10.4km), Ivan Rakitic (10.2km), Javier Mascherano (9.5km) and Luka Modric (9.4km).
While without possession, Özil covered 2.9km per 90 minutes of action, slightly more than other German attacking midfielders Thomas Müller (2.83km), Julian Draxler(2.82km) and Marco Reus (2.4km). He won possession back 1.5 times per game as well, it might not seem like much, but he did it more frequently than Müller, Draxler, and Reus. The Arsenal midfielder also won possession for his team more frequently than Kylian Mbappe, Son Heung-Min and Angel di Maria. These are all players who are often labelled 'hard working' while Özil gets slapped with the 'lazy' tag.
It would be quite understandable if he was getting all this criticism for his World Cup performance because he wasn't doing his primary job. Here's something funny, he WAS doing his primary job of creating chances for team mates. Nobody in the German team played more passes that led to shots on goal than Özil's 11. Only Joshua Kimmich was able to match that and this was after playing a whole match more.
Nobody in the entire World Cup created chances more frequently than Özil, but it didn't matter, it was still his poor performance and lazy attitude that was viewed as Germany's albatross and you have to ask why? Why so much disrespect and hate towards Mesut Özil? Why so much unwarranted criticism and unfair labeling? Maybe it's the eyes, it's his groggy eyes, right?
Article By: Ayoola Kelechi, @Ayoola_Kelechi
Comments
comments