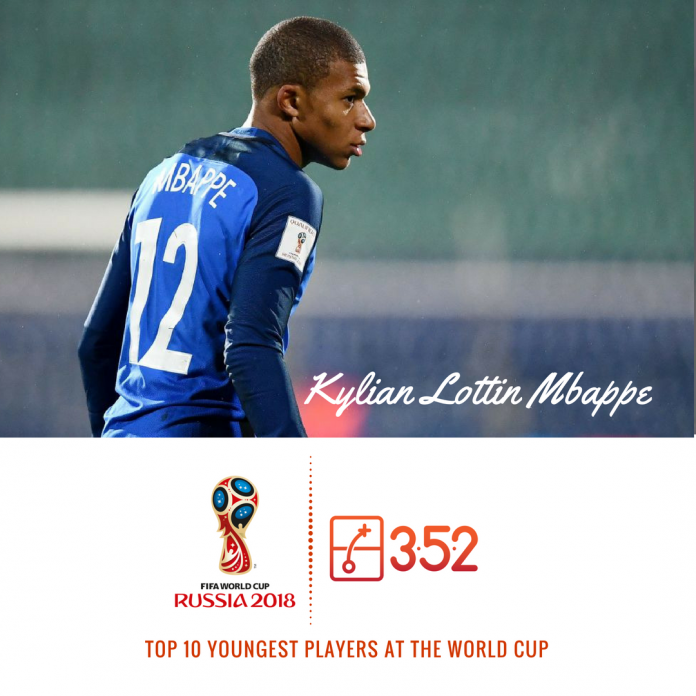 In less than a month, international football's most prestigious event, the World Cup will begin. Everyone has one favourite or another for the trophy with some expecting certain players, to have rip-roaring success at the event. Top amongst this category are the youngsters we hope can take to the stage and entertain us for years to come. We look at ten of them in today's piece.
Kylian Mbappe – France – 19
Mbappe doesn't exactly need to prove himself amongst youngsters. We know what he's capable of. I mean back to back Ligue 1 Best Youngster says it all. One time I glanced through the French U19 and was shocked to not see him. Then I realized he was already balling with the senior boys. To get in ahead of the likes of Anthony Martial and Alexandre Lacazette is no mean feat.
Gabriel Jesus – Brazil, 21
I know that last season, City was like on fire for a so long and one player everyone credited for that was Kevin De Bruyne. Everyone else sort off put in their 2 cents to help win the quadruple league. But if one were to look at other heavy lifters, Jesus makes the cut. For someone who scores lots of goals and creates chances as well, we're almost certain he'll be an important player for Brazil in the summer. You know what even makes it better? The wealth of quality attackers Brazil has. Alongside Neymar and Coutinho, expect some performances to remember.
Ousmane Dembele – France, 21
After Neymar parted ways with Barcelona, the Spanish giants sought a replacement in Dembele. Although his £97m move was interrupted by an injury, there's no doubt as to what the Frenchman is capable of. Now he has recovered and is comfortably in Didier Deschamps' team. Going by what we've seen him do at Nice and Borussia Dortmund, he has a few fireworks left to light up in Russia.
Timo Werner – Germany, 22
The arrowhead of the German B Team (reserves and youngsters more or less), Werner won the 2017 Confederations Cup at 21 with a direct hand in 5 goals at the tourney. With Klose retired, he is tipped to be the next de facto star for Die Mannschaft up front. Tracking his progress at RB Leipzig has been exciting and this summer ought to be a welcome next chapter in his career.
Marcus Rashford – England, 20
It feels like Rashford has been on the scene for so long you almost don't remember or believe that he is just 20. Imagine being good enough to force Jose Mourinho to include a youth player in his team. We'll be sure to see the pacey winger help England with his technique and eye for goal, despite what has been a slightly bizarre season for the youngster.
Hirving Lozano – Mexico, 22
You must be made of something special to be linked to Pep's Manchester City constantly. That's the story of 'Chucky' who eventually signed for PSV Eindhoven, a decision he must savour each day as he made his mark last season scoring 17 goals in 29 appearances. Oh, and PSV Eindhoven won the league. The winger (yes winger) put up a show at the Confederations Cup and will be sure to bring some of his magic back with El Tri in Russia.
Wilfred Ndidi – Nigeria, 21
Aye, our compatriot! Yes, a Nigerian makes the team. The N'golo Kante wannabe replacement for Leicester City did impress last season manning the Foxes' midfield. He's made good appearances in Super Eagles friendlies alongside other youngsters so there's a lot to look forward to.
Andreas Christensen – Denmark, 22
Yup, Christensen is here too. I don't really need to tell you to keep an eye on this one. A regular starter for Chelsea FC at the back last season, he did impress, a little (despite a few mistakes here and there). Denmark may have attacking pedigree (Cristian Eriksen) but with Christensen, they can as well boast of a somewhat solid defence.
Davinson Sanchez – Colombia, 21
One time, someone mentioned N'golo Kante and Davinson Sanchez in the same sentence, comparing the two. Of course, I was a bit surprised. I didn't know who this Mr Sanchez was exactly, I felt like I'd seen him in a Premiership game, ah yes for Tottenham so I decided to keep an eye out for him. It didn't take long to see why the Colombian was spoken so highly of. Tottenham may not have won anything last season but Sanchez sure did prove he could take the step up from Ajax and what bigger stage to prove yourself on than at the Mundial?
Trent Alexander-Arnold – England, 19
Klopp (who loves youngsters a lot!) managed to show us how good Alexander-Arnold is by gifting him as much play time as possible. The Liverpool academy graduate never let the German regret his decision. The 19-year-old was a solid part of the exciting Liverpool team and even appeared in the Champions League final. He has not featured England before so he has a clean slate to start with in Russia.
If you think there's someone else who really deserves to be on this list tell us in the comments below!
Written by Luce Dior (@LuceDior)
Comments
comments