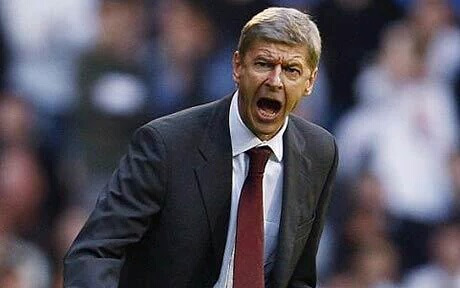 Arsene Wenger the French man whom football has popularly tagged "the Martyr of Islington" holds a degree in economics and has amongst his adversaries, passionate followers and beloved supporters been viewed in various folds. To some an excellent disciple of football management, to others a Gaffer whose methods became simply obsolete for the reason that he couldn't keep in touch with revolutionizing modifications in the world of football.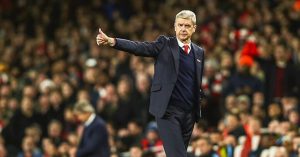 What then could be used to measure success for Le Professor in his nineteen (19) years so far at the north London club? If you were to answer the question the topic of this discourse is asking, should it be his?
Trophy Haul
Wenger became the 1st non Briton to win the EPL and F.A cup (Domestic double) in 1998
Won his 2nd Domestic double year 2002
Won the F.A Cup in 2003
Lifted the 03/04 EPL title undefeated
Won the F.A Cup in 2005
Ended 9 year trophy drought with back to back F.A cup wins in 2014 and 2015
Community shield titles: 1998, 1999, 2002, 2004, 2014, 2015
Notable mentions: UEFA Cup runners up in 2000, UEFA Champions league runners up in 2006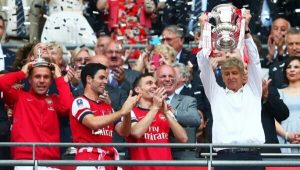 Change in Diet Pattern?

The change and attention paid to player's nutrition can be attributed to Wenger, who on arrival at Arsenal brought Dieticians and seasoned fitness coaches to assist players with re-aligning their body system. This trend went on to be adapted by most English football clubs.
Attacking/Entertaining football?

Wenger endlessly loves having his side play thrilling football. This formed part of the things he picked up while learning the dynamics of football management and was evident in his previous squads both in France and Japan which were attack-minded teams. This style of play has been a norm for the French man as he gave arsenals football a new sense of fit in. After numerous years of the pragmatic soccer by George Graham, several teams and managers have gone on to adapt this free flair style of play but not without criticism for favouring attacking football to the defensive shape of his team, Steve Bould an ex-player who succeeded Pat Rice, as assistant manager has ensured the clubs backline vulnerabilities are reduced to a reasonable level since his appointment.
Developing careers of footballers?

David Dein described Wenger as a miracle worker; several describe him as one who has a penchant for spotting & nurturing talent. At Arsenal, he purchased players with relatively unknown reputations and developed them into world beaters (Cesc Fabregas, Alexandra Song, Robin VanPersie, Thiery Henry, Patrick Viera, Nicolas Anelka, Emmanuel Petit, Marc Overmars, Lorient Koscieny the list goes on). He also helped rejuvenate the careers of Tony Adams, Dennis Bergkamp, most of these players are among the finest ever to grace the English football scene.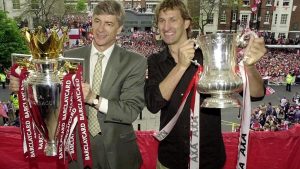 Successful Transition from Highbury to the Emirates?

Wenger was a strong advocate of Arsenals move to the over 60,000 capacity state of the art stadium. The economist always stressed that the move would give the club a strong financial footing in the future and help attract better players which it did. This was achieved at huge cost with several senior players sold, transfer budgets depleted, all just in a bid to erecting the architectural masterpiece.

In a financial report prepared by Deloitte in 2015, Arsenal made the largest match-day revenue amongst all the top European clubs, which gives the club more ability to flex their muscles amongst European top guns.

In highlighting his past records, several criteria apply. Nevertheless, if one is to maintain objectivity in gauging the level of impact he has made since joining the English football scene, one must not forget this is a Manager who endured a trophy drought of almost a decade, a man who was unable to invest hugely on transfers during a harsh financial period at his club, a man whose team condemned their fans to several humiliating match results (8-2 humiliating defeat at old Trafford, 6-0 thumping by Chelsea at Stamford bridge in Wenger's 1000th game at Arsenal, embarrassing 2-1 defeat by Birmingham in league cup final at Wembley)

Arsene Wenger's track record speaks for him to an extent, opinion is divided among the Gunners faithful, some think he would remain an everlasting icon at the club, others think he should leave while the ovation is still a bit loud, rather than sullying his reputation, But for a trainer who refused to stroll away while Arsenal were enduring a difficult financial situation (stadium loan repayment) which evidently affected his chances of competing with rival clubs; he has done enough to prove he is a long-lasting luminary in English football.

By Tosin Banwo without forgetting to express gratitude to Bukola Aluko for massively substantiating this piece.
Comments
comments