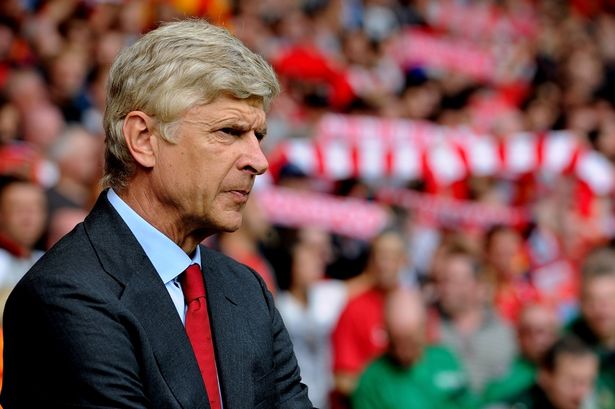 "There are only three types of managers in football today: the ones getting fired; the ones getting hired; and Arsenal's Arsene Wenger"
– @teehem

Just yesterday I asked a friend who's a staunch Arsenal fan who was Arsenal's manager before Arsene Wenger. For the sake of context, my friend ─ let's call him Nnamdi ─ is that typecast Arsenal fan who if a beautiful well-endowed lady happened to walk by and you amazed at her steatophygia were to say:

Nna mehn, see a$$!
His reply would be in the realm of:
Where? Where dem dey show Arsenal?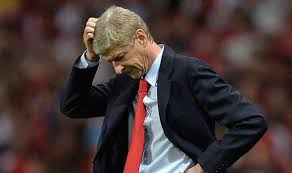 Anyway, Nnamdi thought about my question for a very long time before sheepishly saying he'd get back to me. I'm pretty sure he's not the only fan who doesn't know or can't remember pre-Wenger Arsenal. It actually shouldn't be a thing of embarrassment; rather it's a testament to the man's greatness and dominance of the football scene at Arsenal FC since his arrival in October 1996. The significance of this dominance is more tellingly pronounced when sited against the bubble-long timespan of other professional top-flight managers in football today.

However, it hasn't exactly been a joyride for the Frenchman all the way. Along the line, he has acquired quite a reputation for being a 'specialist in failure' due to his inability (some say it's because he's a fraud) to match the trophy haul of the current (and some past) league of elite football managers. Some say it's because he's tight-fisted (euphemism for zealot 'baba ijebu' economist) while some say it's the players who lack a 'winning mentality'.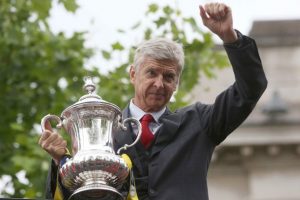 Whichever you think it is; to a result-oriented fan or football follower, it only echoes "excuses" and nothing more because as they say around here "omo to ba pass lo mo we' meaning intelligent students are those who pass exams.
Before we delve into polemics and you attempt to engage me on how flawed and tangential to the Arsenal/Wenger debate the above logic is, why don't we quickly run through 10 illogical but quite common "myths" Arsenal fans have brandished in protest of their trophy fails over the years?
Okay then. Here goes.
.
Penny wise, Pound foolish
Arsenal fans are quick to point to a paucity of funds as one major reason for their trophy blues. Some even go as far as saying Wenger is being arm-wrangled by the Arsenal board on transfer spend matters. Actual data shows all these excuses are just that─ excuses!
Injuries
Last season it was Cazorla, Wilshere and seven others. Eduardo is a name most fans will likely never forget. Long term injuries to key players are a main feature on the Arsenal scene every season and some fans are always quick to latch on to these as the reason they continue to under-deliver. Yet the question begs: Why are Arsenal players especially susceptible to protracted injuries?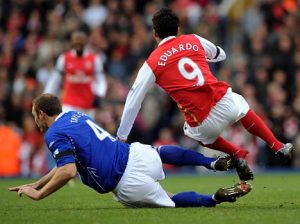 Is it because they have biscuit bones like some haters say?
Frugal Wenger
The man has been made out to be a tight-fisted penny-pincher with a specialised doctorate in 'baba ijebu economics' ─ please don't ask me what that is. Some fans actually believe he dislikes buying players or that he hasn't splashed huge sums on players in the past. While Wenger has actually refrained from splashing huge sums on player transfers in recent times due to the budget tightening effects of the Emirates project, he's in no way the miser he's been painted to be.
Not a spending club
Fans are quick to say we are not like the other clubs who buy established players. Needless to say, player development at Arsenal is one of the best in club football and fans take pride in saying most of their key players are club-nurtured talents. Ironically, they are also quick to lament the lack of more experienced mature players when the chips are down. Double-speak or undiluted hypocrisy?
Top 4 finish enough
Arsenal have not finished below the top 4 since Wenger took over in 1996. Remarkable; innit? The flipside is that the club has become synonymous with the number and Wenger; fodder for so many number 4 witticisms. Fans in Wenger's defence usually laud these results with renewed hope of either a UCL or Premier league trophy one day manifesting. Following extensive #WengerOut vilification last season, Wenger himself was compelled to recant his usual 'top 4 is a good result' stance. We do hope this memo gets across to all Arsenal fans.
The Art of football
Watching Arsenal play is orgasmic no doubt. Very few clubs aside Barcelona, Bayern and recently Borussia Dortmund can boast the same. The style has been touted as another reason for their piss poor record especially when most of the opposition favour a 'win at all cost' approach─ playing negative football (Where are you Jose?). Over the last decade however, these other clubs Barca and Bayern especially; have recorded significant successes with their fluid passing style; while Arsenal is left with two FA cups, a couple of shields and a host of top 4 finishes.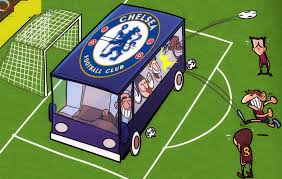 Financial doping
I'm sure you've heard the following phrase; 'money has ruined football'. It's being thrown around too many times these days that it's fast becoming meaningless. Anyway, the idea is if other clubs didn't splash money up and down anyhow, the market would be saturated with good legs thus moderate spenders such as Arsenal would be able to compete favourably in the transfer market and in competitions.
I daresay this argument was valid to a point until Leicester pulled a Ranieri or vice versa last season. Wenger; credited to have coined the term 'financial doping' and which coincidentally follows the 'money has ruined football' rhetoric, has however retracted his position by admitting he would spend a £100 million on a single player if, and only if such a player exists. Playing mind games, are we Wenger? Touché.
Disloyalty
We all know why the initials RVP bring the taste of bile to many a gooner fan. We also know why a certain 'Fabripass' is now booed anytime he makes an appearance at the Emirates. It's easy for many to wish out loud and say 'if only they had been more loyal or stayed…we would have won this or that' but difficult for the same clique of fans to ask pertinent questions like 'could Wenger have done more to make them stay?' etc. That these two went on to win trophies which have eluded Arsenal for years after their supposedly disloyal exit is a pointer to problems inherent yet left unaddressed at the club.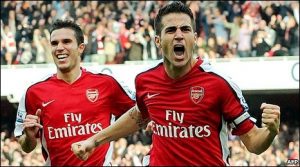 The Emirates project
There's no gainsaying that the building of the Emirates stadium effected a stringent belt-tightening policy at Arsenal budget-wise. Yet there's great harm in hanging on the excuse that it was responsible for the donkey years of no silverware. This excuse probably had some weight around 2007-2011 but no longer. Since 2013 when Arsenal officially re-joined the spend club to buy Mesut Ozil for £42 million, the club's final position hasn't been different from previous results.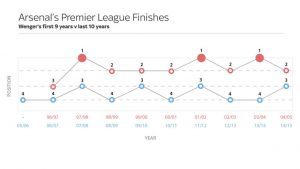 The fact that they've remained in the topflight domestically and abroad every season; coming close but failing the bull's eye test each time is also proof enough that it's more a problem of complacency than paucity of funds. If Arsenal fans needed an excuse at all, it should be directed at Wenger's loyalty to an idealistic vision of relying primarily on club-grown youth talent and his apparent aversion to adopting new tactics on/off the pitch.
The Special One?
Every Wenger loyalist detests him and perhaps their dislike is justified. How dare he call Wenger a 'Specialist in failure'? How dare he put a blot on a hitherto 'unimpeachable' resume? How dare he mock Wenger who revolutionised English football?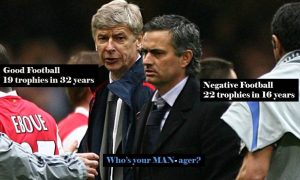 True, Arsenal's woes were compounded with the rise of Chelsea, big money, the arrival of Mourinho on the English football scene and the notoriety of his brand of 'negative' football as opposed to Wenger's beautiful or total football.
Yet, placing Wenger's inability or unwillingness to conform with/to the times/situations; his redefinition of football success as well-balanced books at the end of the season; or a top 4 league finish etc. at Mourinho's feet is absurd. While some of Mourinho's criticisms may be unfounded or a tad bit overboard i.e., the specialist in failure tag, it is noteworthy to observe that Wenger has won 4 trophies for Arsenal since the ignominious comment.

Does this mean the unhealthy rivalry Mourinho presents is in fact necessary to remind Wenger that success in football ultimately remains tantamount to trophies won?
Article By: @teehem 
Comments
comments