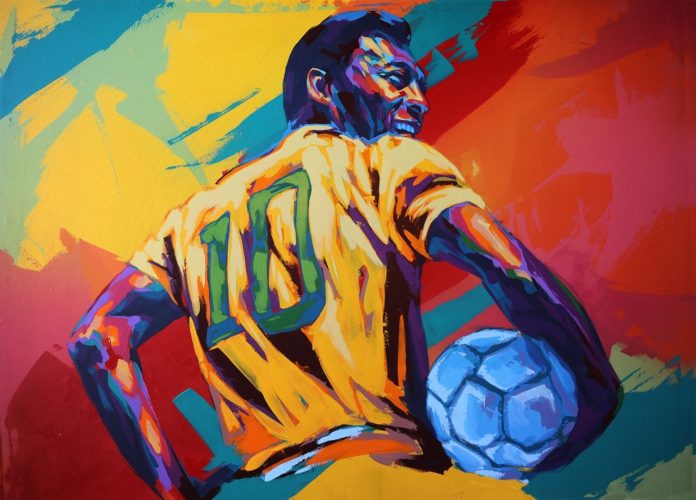 Since the advent of squad numbers at the World Cup, one number has stood out as a fan and even player favourite. The number 10. Usually reserved for only the best players, it is one of those that you immediately search for on the team sheet. 
Here are some of the legends that have transformed it from just a number to a status symbol. The magical Number 10s of the World Cup.
FERENC PUSKAS
In the first World Cup with assigned squad numbers, Puskás made the number 10 groovy. Going on to win 3 European Cups with Real Madrid, he formed a fearsome partnership with Sándor Kocsis as Hungary reached the final of the tournament. They eventually lost to Germany. Kocsis scored 11 goals and was the top scorer of the competition but Puskas was still the star of the show winning the Golden Ball. Puskás was perhaps the World Cup's first great No. 10 but never tasted World Cup glory. Despite putting Hungary ahead in the final, Puskas ended up on the losing side as the Germans rallied from two goals down to win 3-2.
PELE
Pele is arguably the greatest player of all time and his World Cup campaigns are a major reason why. His emergence on the World Cup scene in 1958 was one of the most riveting episodes in the tournament's history. Despite initially struggling with an injury, he was a vital part of Brazil's first World Cup win. He scored six goals in the competition, outscored only by Just Fontaine who got 13, including three in the final where he became the youngest person to score in a World Cup final. This was when he put two goals past Sweden to help the Selecao to a 5-2 victory.
He was retrospectively voted as the Best Young Player of the 1958 World Cup and went a step further in 1970 where he was named Player of the Tournament. He also won his and Brazil's 3rd World Cup, scoring again in the final as Brazil won 4-1. Pele's pace, skill, and longevity at the top were unmatched by any of his contemporaries and his 3 World Cup triumphs is still a record.
AUSTIN "JAY JAY" OKOCHA
From Pele to one of Pele's favourites. Okocha was an embodiment of what the No. 10 stood to represent; creativity, style, and a penchant for the extraordinary. He represented Nigeria at the 1994, 1998 and 2002 World Cups and was voted into the Team of the Tournament in '98. At that tourney in France, he was the hub of everything good for Nigeria as they reached the second round becoming one of only 3 African players to be named in a World Cup Team of the Tournament. Jay Jay was arguably the greatest African to don the No. 10 jersey at a World Cup and it is an immense honour that he did so for Nigeria.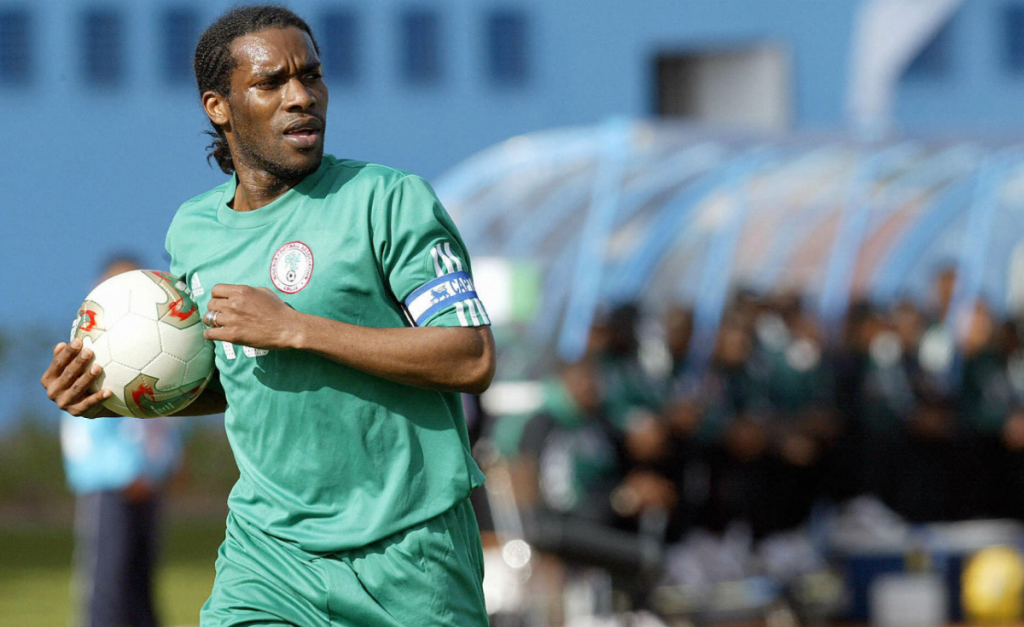 GEOFF HURST
To this day, Geoff Hurst remains the only player credited with scoring a hattrick in a World Cup final. He did so on home soil in 1966 as England romped to a 4-2 extra time win over Germany. This was the Three Lions' first and so far, only World title. Hurst made the best of the opportunity afforded him by the injury to one of England's first choice forwards. Tottenham legend Jimmy Greaves missed the Quarterfinal line-up against Argentina and Hurst never gave up his spot even after Greaves returned from injury.  Hurst scored the only goal in the quarter-final, assisting Bobby Charlton's second in the semi-final before making history in the final.
MARIO KEMPES
Kempes getting the now coveted number 10 shirt for Argentina was purely fortuitous. In such simpler times as the 1974 and 1978 World Cups, Argentina gave out squad numbers alphabetically instead of positionally. That's how midfielders Nolberto Alonso and Oscar Ardiles were given the numbers 1 and 2 respectively while Goalkeeper Hector Baley had to settle for the number 3 jersey. Kempes' placement between the names Rene Houseman and Daniel Killer was providential. His performances at the 1978 World Cup hosted by Argentina would inspire the legacy of one of the most distinguished jerseys in World football.
He came into the tournament with a reputation of being a habitual goalscorer for Valencia but had so far failed to replicate that form for the national team. Failing to score in the previous World Cup, he was part of the Argentina team that finished bottom of the second group phase. He, however, made up for it on home soil powering Argentina to their first ever World title. He scored 8 goals in the process, carting away the Golden Boot and Golden Ball.
MICHEL PLATINI
Before Zidane, there was Platini. The enigmatic Frenchman is revered more for his contributions to Juventus as well as France's Euro '84 triumph, but he was also instrumental in France reaching consecutive semi-finals in the 1982 and 1986 World Cups. As Captain along with other French greats like Jean Pierre Papin, Luiz Fernandez and Jean Tigana, Platini propelled France to their best finishes at the World Cup for two decades. He even came within two unfortunate penalty misses in the semi-final against Germany (surprise surprise) to a first-ever final berth in the 1982 World Cup. Platini's enterprise as he battled for French glory was recognized, and he was included in both the 1982 and 1986 World Cup Teams of the year.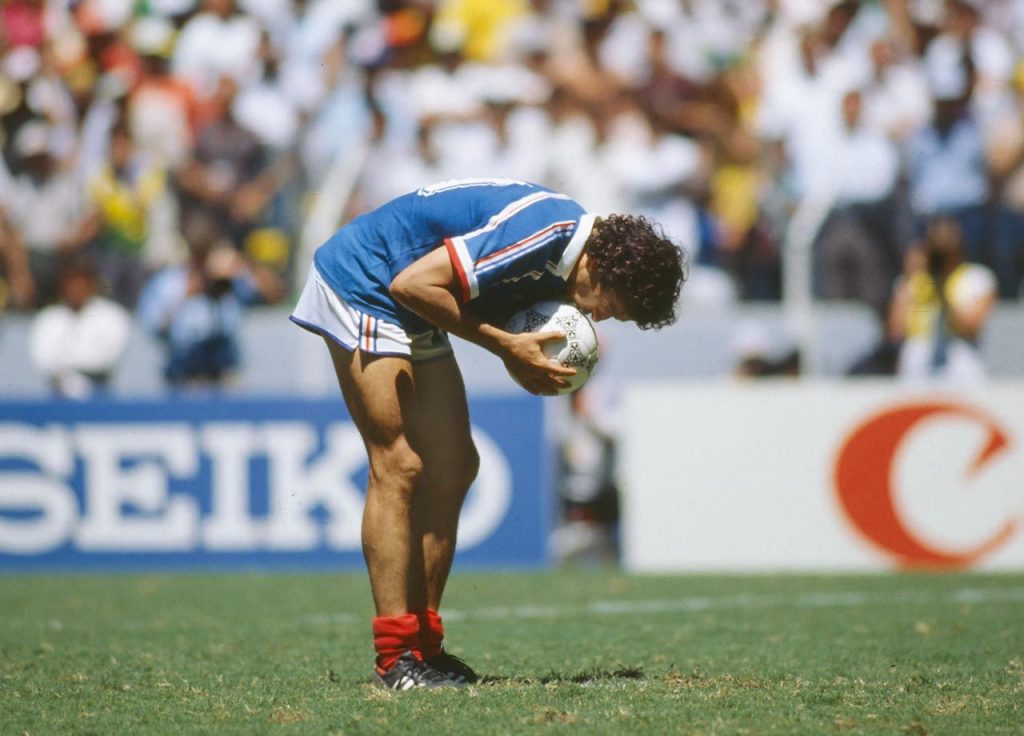 ZIDANE
The World Cup Zidane was best at sadly ended in anguish. His actions on that night were only topped in shock value by his exit from Real Madrid 5 days completing his Champions League 3-peat as manager. Funny enough, Zidane's 1998 World Cup almost ended in a red mist like 2006 when he got sent off for a stamp on a Saudi Arabian player in France's second group stage game. However, Les Bleus soldiered on, beating Denmark in their final group game. They survived against Paraguay in the Round of 16 while Zizou served his two-game ban. He made up for his misdemeanour by scoring two identical bullet headers to secure France's maiden World Cup trophy.
8 years later Zidane came out of retirement in a bid to inspire France to their second, and he almost did. As captain, he led France to the final playing at a level that belied his age. His displays against Spain and Brazil are some of the best seen by a midfielder at the World Cup. In the final, Zidane scored an audacious chipped penalty but ultimately got sent off in extra time for a malicious headbutt on Marco Materazzi. With Italy eventually triumphing on penalties, he had to settle for the Golden Ball only.
DIEGO MARADONA
In the 1982 World Cup with the Argentine squad undergoing a minor overhaul, erstwhile number 10 Mario Kempes was given the number 11. This was because the numbers were still being given in alphabetical order with midfield general Ardiles remarkably taking the number 1 jersey. With Patricio Hernandez set to take the number 10, Maradona broke the canon for the coveted jersey. He had become enamoured with it having worn it at Boca Juniors. He was allowed to switch with Hernandez.
Like his compatriot Kempes, Maradona's first World Cup did not go as planned and in fact, ended with him being sent off in the final match of the 2nd Group phase as Argentina finished dead last behind both Brazil and Italy and were knocked out. Maradona returned in 1986 as captain and delivered one of the most dominant performances ever seen at the World Cup as he engineered Argentina's second and so far, last World Cup triumph. He finished the tournament with 5 goals and was named Player of the Tournament.
RIVALDO
Rivaldo was a veteran of two World Cups: 1998 and 2002. On both occasions, he went all the way to the final and was included in the Team of the Tournament each time.  Although the first ended in agonising defeat against France, the latter would see Rivaldo join Ronaldo and Ronaldinho to make up the famous "three Rs" frontline for Brazil which worked to devastating effect. Rivaldo was Brazil's chief playmaker in 1998 and played a very important role behind Ronaldo. His trio of goals was important and yet unable to yield a gold medal. 2002 came with less promise than 1998 with an inexperienced squad, Ronaldo's fitness struggles and difficulty in qualifying. However, the Seleção made it work with Ronaldo the star man. Rivaldo proved the perfect supporting act scoring 5 times including a stunning winner against Belgium as well having a hand in both goals in the final.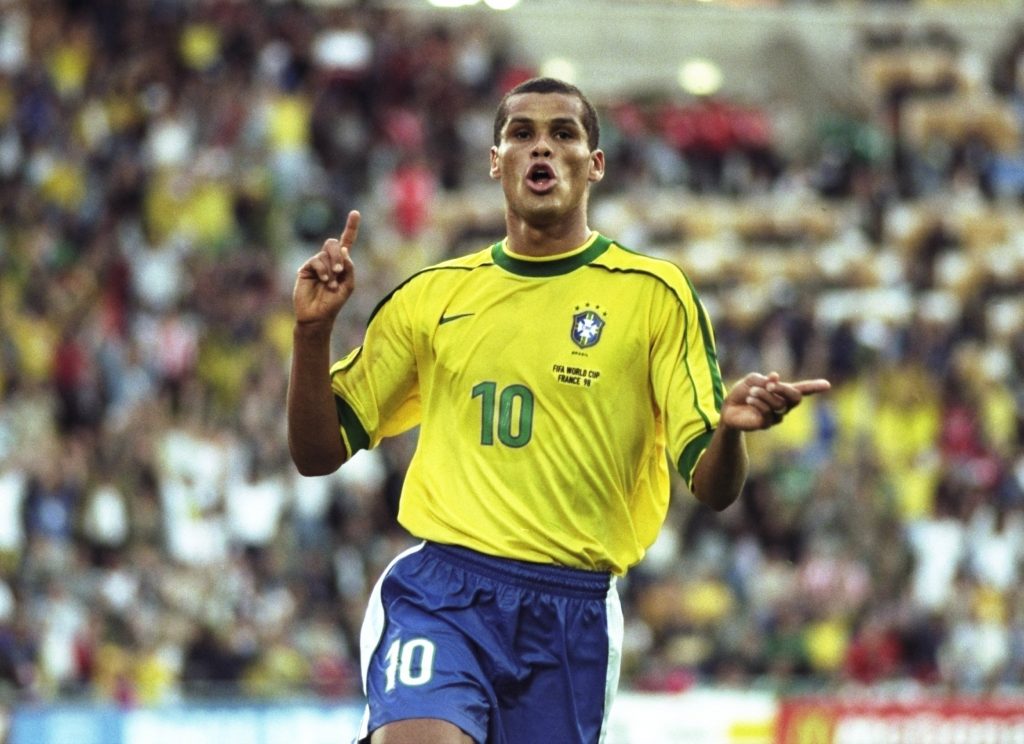 Who will be the Russian World Cup's next great Number 10? Neymar? Messi? Salah? Maybe even Joh Obi Mikel? As we wait expectantly, tell us who you think it will be.
Written by Ayoola Kelechi (@ayoola_kelechi).
Comments
comments