What a dramatic way to end probably the most exhilarating Premier League match of the season so far: Sergio Aguero was sent off for a highly reckless challenge on David Luiz and Fernandinho followed his team-mate into the tunnel soon after he too saw red for his scuffle with Fabregas.
The melee continued and Pep Guardiola had to step onto the pitch to calm his men down. It was easy to see why the Man city players had lost it in the closing stages of the match. They had been in control of the game, created the most clear-cut chances to score but blew it all away. Chelsea, on the other hand, showed character – and balls – to fight their way back into the game and then eventually win it.
City had everything going their way in the first half and deservedly took the lead via a comical Cahill own goal. The England international turned the ball into his own net as he tried to get a block on Jesus Navas' cross from the right.
Second half saw an improved Chelsea side score three sublime goals: Fabregas with a trademark searching long ball for Costa, who did well to hold off Otamendi, before drilling past Bravo. The second came when Costa slid a perfect pass to Willian who took a touch, before firing low across Bravo. Eden Hazard wrapped up the match in the final minute to make it eight wins in a row for the league leaders.
You'll never see another match like this again. Here's ten reasons why we loved it:
Diego costa brilliant without a 'scratch'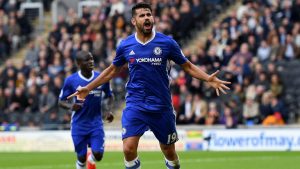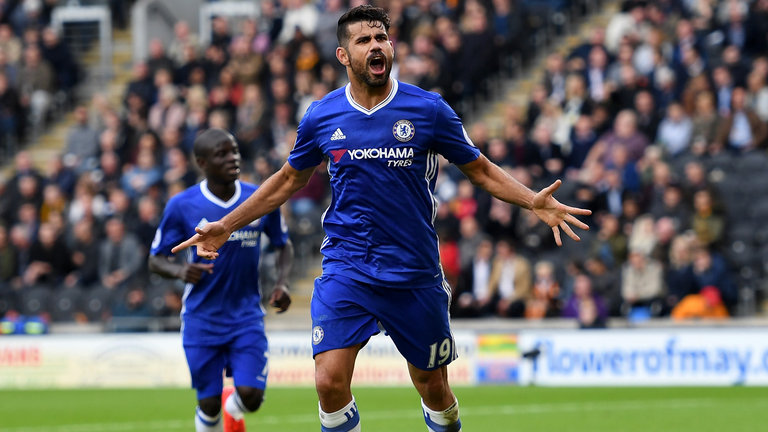 The Chelsea striker is having his best season ever and is scoring goals for fun. More refreshing is that he is doing it without his traditional scowl with the opposition. He's become a calm-headed silent assassin.
Fabregas hasn't lost touch…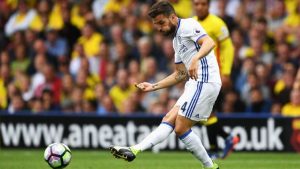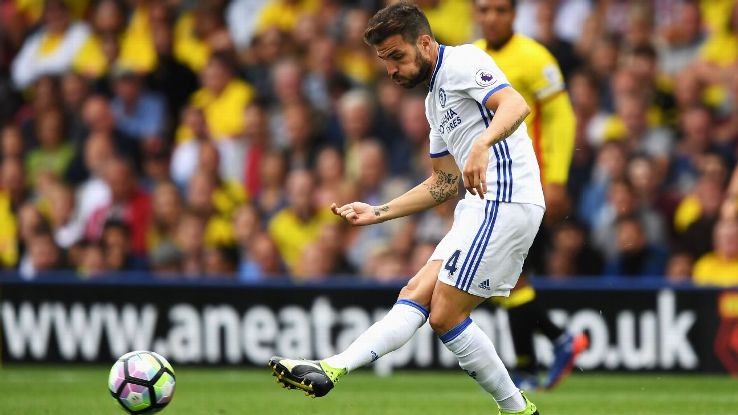 …His overhead pass for Diego Costa's opener was an "absolute dream of a delivery".
A dramatic turnaround
Three sensational second half goals saw Chelsea change the destiny of a game that city had looked extremely likely to win at halftime. However, the Blues were helped by……….a really great miss!
Last season, Arsene Wenger talked about fine moments defining a game. That was a fine moment right there, and Kevin de Bruyne FLUFFED it. Peel off his kit and you'll find Chelsea colors underneath.
Fernandinho went completely bananas.
How else would you explain a professional footballer trying to force out another players voice box? Or subsequently pushing him over an advertising board?
Anthony Taylor had his hands full
Not the first time he's handled games of this standard yet he struggled badly. Got several decisions wrong – including his refusal to send off Luiz for a foul on Aguero – and would not want to remember this one for very long.
Diego came running…
…off the bench when the shoving contest began. However, he was more controlled than you'd have expected. Weird.
Chalobah will make the grade at Chelsea
It is very easy to see why Antonio Conte loves this kid. He's strong, technical and has the mentality of a mature player. Following Aguero's challenge on Luiz, the youngster remarkably went over and shoved the argentine to the ground (sparking the melee). There's the fire we want to see!
Aguero and Fernandinho facing ban…
….for losing their heads so comprehensively in the last-minute. By the way, it's Aguero's second red card of the season, so he'll miss four league games, against Leicester, Watford, Arsenal and Hull.
Otamendi had a torrid day
Struggled to keep up with the pace of Diego Costa. He could have cried.
Article By: Jibril Baba, @Jibril__baba
Comments
comments