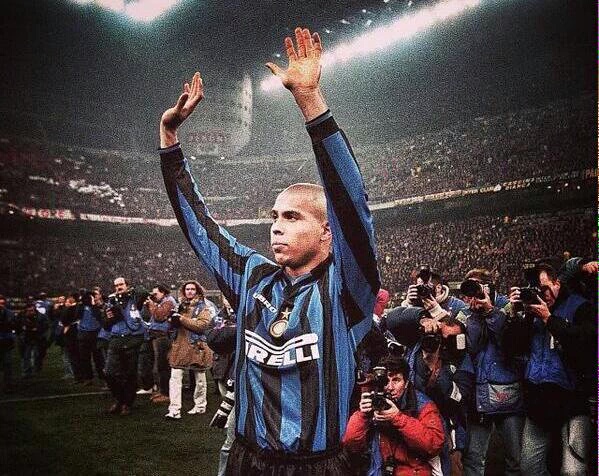 Ronaldo Luís Nazário de Lima 'Il Fenomeno' the boyish grin that had defenders in tears. Ronaldo had it all! Aesthetics – watching Ronaldo at his peak was an astonishing experience, comparable to viewing artwork by Michaelangelo or Picasso or listening to a concerto piece co-written by Mozart and Beethoven leaving not only opponents but some people on his own team awestruck. He was nothing short of pure football artistry.
Numbers – 414 career goals in 616 games an average of 0.67 goals including 62 goals in 98 appearances for Brazil and a recently toppled record of 34 goals in a single La Liga season. Titles – 2 World Cup gold medals, La Liga, Eredivisie, Cup Winner's cup,
Titles – 2 World Cup gold medals, La Liga, Eredivisie, Cup Winner's cup, UEFA Cup.
Individual accolades– FIFA World Player of the year, Ballon d'or, Pichichi to name a few.
After being rejected by Flamengo (the club he supported as a kid), a 16-year-old Ronaldo signed for Cruzeiro in 1993, scoring 44 times in 47 games winning the Copa do Brazil and earning a call up to the National team squad for the 1994 World Cup. He did not make an appearance, but his time would certainly come.

He Joined Dutch giants PSV in 1994 after the world cup and scored 30 league goals in his first season, before enduring the first in a painful series of injuries, but still managed to score 19 times in the 21 games he played, leaving Holland with a total of 54 goals in 58 games.

It was at that point that the super powers of football were convinced about Ronaldo and Barcelona beat Inter Milan to his signature in 1996 paying a World Record £13.2m in the process. They would not regret as their Brazilian wonderkid scored an amazing 34 league goals in 37 games and and 47 in 49 in total, winning the Cup Winner's Cup. His most famous moment in a Barca shirt came against Compostela where he scored one of the best goals ever seen, picking the ball up in his half before showing great skill to avoid two defenders, pace to beat two more and finally getting to the box, he executed a quick step over, leaving two defenders for dead, before hammering his effort past the keeper, he wheeled away arms spread by his side as he had done so many times already while his coach Bobby Robson stood looking as befuddled as the Compostela defenders on the floor. Ronaldo finished that season with the European Golden Boot and was the last player before 2008/2009 season to score 30+ Liga goals.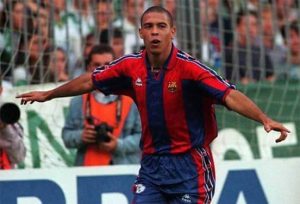 In the summer of 1997, he broke the World Record for the second time for his transfer fee of £19.5m that saw him sign for Inter Milan. At the end of 1996, he became the youngest ever player to be crowned FIFA World Player of the year at just 20 years. A record till this day.

At Inter, he flourished in his first season, winning his 2nd FIFA World Player of the year award and his first Ballon d'or in 1997, scoring 34 times in 47 appearances, his season culminating in a UEFA cup final against Lazio where he scored the third goal, an unbelievable goal, rounding the goalie without touching the ball. Ronaldo was special, he made an art of leaving keepers on their back side, it was his forte, his bread and butter, and after getting tired of lifting his hands to his side (almost 200 times in just over 220 apps) he introduced a new celebration, the finger wag, as if saying to opposing defenders "you were warned".

On November 21st, 1999, Ronaldo was visited by tragedy when ruptured a tendon in his knee in a league match against Lecce, the injury would keep him out for almost the entire season. He was back in action in April in the Copa Italia final against Lazio, but his return was cut short after just 7 minutes, falling to the ground in tears after suffering a reoccurrence of the injury. Ronaldo went on to miss he entire 2000/2001 season through injury and also a good chunk of the 2001/2002. Requiring 2 more surgeries to repair the damage to his knee. He returned for the last 10 games of the season and scored 7 times, but Inter ultimately fell at the last hurdle losing the last game of the season and consequently missing out on the Serie A title.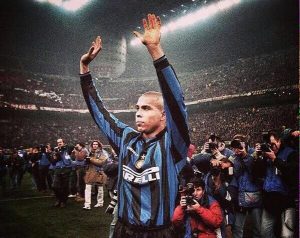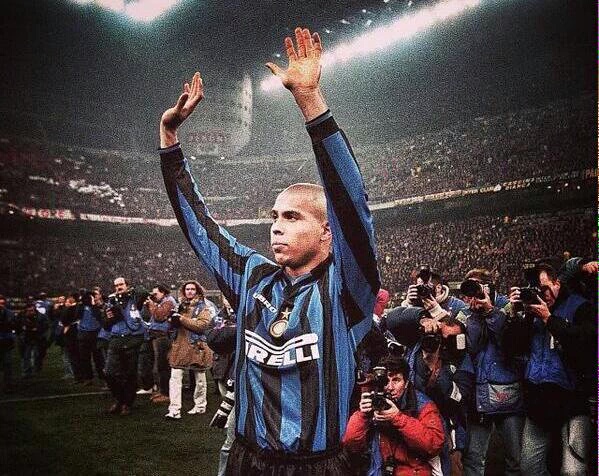 In 2002, after the World Cup, Ronaldo called time on his injury ravaged time at Inter, after 59 goals in 99 apps, joining Perez's Galaticos where he would finally claim a European League title in his first season at the club. He scored 30 times in total that season including his hat trick at Old Trafford in the UCL quarter final. Three sublime goals put the tie beyond Manchester United and was left the pitch in the 80th minute to a standing ovation from the Old Trafford faithful.
Ronaldo was so critical to Real that in the 2003/2004 season, they were on course for a historic treble, in the final of the Copa Del Rey, top of the league and in the semifinals of UCL, but an injury to Ronaldo derailed their season. A collapse in the league combined with a loss in the CDL final and an exit in the UCL at the hands of Monaco meant that they finished the season without a trophy. Ronaldo was too scorer for Madrid in all 4 full seasons he played there before leaving for AC Milan in January 2006, scoring a total of 104 goals in 177 games. At Milan, injuries continued to plague him and he managed only 20 games in the 2 seasons he was there, scoring 8 times including against former club Inter Milan meaning he had scored for either side in both the Clasico and The Derby Della Madonnina.

After leaving Milan, he trained with Flamengo but eventually signed for Corinthians enjoying a resurgence, scoring 23 times in 38 games in his first season helping the team to the Copa do Brasil and Campeonato Paulista. He stayed for 2 seasons before finally calling time on his career in 2011.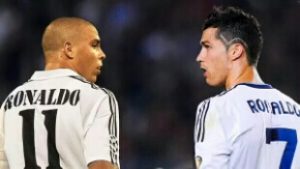 It was for Brazil however that Ronaldo was most successful and most revered scoring 62 times in 98 games including 15 World Cup goals. A record that he held for 12 years before it was eventually broken by Miroslav Klose. He made his debut in 1994 and was included in the triumphant team at USA 94 but failed to make an appearance. He was on the squad at the Atlanta 96 Olympics scoring 5 times before losing in the semi finals to eventual winners Nigeria.
In 1997, he starred for Brazil as they won their 5th Copa America and was voted player of the tournament scoring 5 goals in the process. He again was a key member of the team in that years confederation cup, scoring a hattrick in the final.

In the 1998 World Cup in France, Ronaldo -by now the talk of the town – could do no wrong, mesmerizing defenders from St. Denis to Marseille and back. The tournament would end in tragedy for the young forward as he suffered a convulsive fit on the morning of the final and was initially left out of the match day squad but when Brazil emerged from the tunnel, Ronaldo was there in the starting XI looking like a kid being forced to go to the opera. With their enigmatic forward looking a shadow of himself, Brazil buckled and were beaten 3-0 by the hosts. Ronaldo didn't lose out completely, claiming the golden ball for the Player of the tournament.

After almost 3 years out of action between 1999 and 2002, Ronaldo was a risk inclusion in the squad to the World Cup, having played less than 15 games all season and if his inclusion didn't leave enough mouths gaping in surprise, his haircut certainly did as he appeared in the opening game with hair covering one half of his head while the other half was bald as an eagle. But 2002 would be the World Cup that defined Ronaldo's international career, if he was good in 1998, then he was marvelous in 2002 scoring 7 times including 2 in the final, a rebound from a Rivaldo effort and a sublime finish, as Brazil claimed their 5th World Cup and Ronaldo sporting his R9 haircut had successfully exercised the demons of 1998.
In 2006, Ronaldo scored 3 times thus becoming the leading goal scorer in World Cup history with 15 goals in 19 games, he also jointly held a record for 3 consecutive world cups with at least 3 goals along with Jurgen Klinsman. Both records would eventually be eclipsed by Miroslav Klose 12 years later.

Ronaldo was the greatest marksman of his era, combining unbelievable pace, power and skill in a career littered with silverware and individual accolades despite being plagued by so many injuries. He was nothing short of a Phenomenon, absolutely spectacular and if you don't believe me you should really check out what other people had to say about him.

Ronaldo's last goal at the World Cup typified the man, racing on to a Kaka through ball, he was faced with the Ghanaian goalie Richard Kingston, one step over later and Kingston was on his backside clutching at air, while Ronaldo went the opposite way, slotting into an empty net, wheeling away wagging his index finger. The real Ronaldo, R9, O Fenomeno thank you for the memories.

"When he was in his prime, Ronaldo was frightening. He had such incredible balance and power for someone so quick. Played with that Brazilian swagger and scored loads of goals, including some incredible ones."
— Denis Irwin
"He went to Holland, Spain and Italy and enhanced the reputation of Brazilian football in all three countries. He came back home and breathed new life into the Brazilian championship and Corinthians. Brazilian people should be grateful for what he's done for our football."

— Pele
"Never in my life have I seen an 18-year-old play in this way."

— Rudi Voller, after Ronaldo scored a hat-trick in PSV's 4-5 loss at Voller's Bayer Leverkusen in the 1994-5 UEFA Cup

"For me, Ronaldo is the greatest. He was as [good as] Pele. There was nobody like him. No one has influenced both football and the players who emerged as Ronaldo."
— Zlatan Ibrahimovic
"I put up photos of Ronaldo in my room. Ronaldo was the man. Not only because of his step-overs and goals in the World Cup. Ronaldo was brilliant on every level. He was what I wanted to be, a guy who made a difference. [ . . . ] Ronaldo was my hero and I studied him online and tried to take in his movements, and I thought I was getting to be an awesome player. I danced down the pitch with the ball."
— Zlatan Ibrahimovic
"Ronaldo had pace and power and how good was his finishing? He's the kind of striker that only needed to touch the ball once or twice to score a brace. Only great players like him can do that."
— Sergio Aguero
"Ronaldo was my hero. He was the best striker I've ever seen. He was so fast he could score from nothing, and could shoot the ball better than anyone."
— Lionel Messi
"Ronaldo was marvellous. He had one year with me at Barcelona, I bought him from PSV, and he was out of this world. He was a god, absolutely fantastic. Ronaldo was lean, mean, as quick as an Olympic sprinter and some of the goals he scored had me shaking my head in disbelief."

— Sir Bobby Robson (when asked about the best signing he'd ever made)

"I'd seen him on television at PSV and thought 'wow'. Then he came to Barcelona. He's the most spectacular player I've ever seen. He did things I'd never seen before. We're now used to seeing Messi dribble past six players, but not then. He was strong, a beast. A kid as well. He was typically Brazilian, doing the samba in the dressing room."
— Luis Enrique
Article By: Ayoola Kelechi, @ayoola_kelechi
Comments
comments