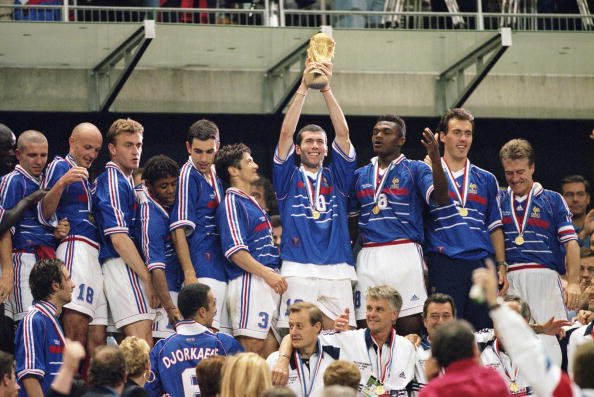 In the 20 World Cups that have taken place since 1930, only 8 teams have managed to pick up winning medals, from 77 countries that have played at the World Cup finals, only these eight can say they have been World Champions. But, there was a time before even they could proclaim themselves as such, a time before these magical moments befell them. As we look forward to the opening of yet another World Cup filled with teams hoping to add their names to the list of champions, we look back at the first time the famous 8 lifted World football's most coveted prize.
---
URUGUAY 1930
We begin in Montevideo. Just as the World Cup did. At the Estadio Centenario, Uruguay became the first country to host and to win the World Cup. Led by inspirational captain Jose Nasazzi aka El Gran Mariscal (The Great Marshal), Uruguay continued where they had left off 2 years earlier winning the World Cup just as they had done the Olympics, against the same opponents even. Most of the games were held at the Estadio Centenario. Built to commemorate the country's 100 years of independence, it would be the scene of Uruguay's opening game against Peru in Group 3 of the World Cup. They struggled to a 1-0 win and were widely criticized for their timid performance by the Uruguayan media with most ruling out a repeat of Olympiad successes from 2 and 6 years prior.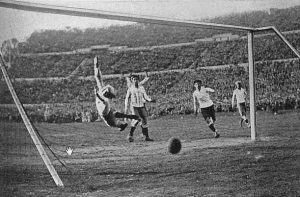 They put their critics to shame, however, picking up steam in their next group game against Romania – one of only 4 European teams willing to compete in the inaugural World Cup- with a resounding 4-0 win thanks to goals from Pablo Dorado, Hector Scarone, Peregrino Anselmo and Pedro Cea. The win saw Uruguay top their group to qualify for the semifinal of the 13-nation strong World Cup. As with most World Cup wins for host nations, the 1930 edition was not without controversy as the Celeste, having recovered from a 1-0 deficit against Yugoslavia to go 2-1 up, scored a dubious third goal after a policeman helped an out of bounds ball back into play in the build-up to Uruguay's third goal. The Celeste scored 3 more goals after that to win convincingly 6-1, mirroring the scoreline from the other semifinal between Argentina and USA.
Uruguay faced arch rivals in the making. Argentina in a repeat of the 1928 Olympics final and were 2-1 down at halftime before rallying to a 4-2 lead in the second half with goals from Cea, Santos Iriarte and Hector Castro. Uruguay got crowned World Champions and a public holiday declared to celebrate the triumph of their heroes. A triumph that was repeated at the next World Cup Uruguay attended in the Maracanaço.
---
ITALY 1934
Italy became the first European team to lift the World Cup trophy as Legendary manager Vitorino Pozzo claimed the first of his 2 consecutive World Cups. In the absence of reigning Champions Uruguay who decided to repay the Europeans in their own coin, declining an invitation to the tournament just as many European countries had declined their invitation to the inaugural World Cup. South America was instead represented by Brazil and Argentina who made the trip across the Atlantic only to play once and get eliminated at the first hurdle along with the only other non-European countries USA and Egypt. The former were the opponents for the Azzurri's first match which they won convincingly 7-1.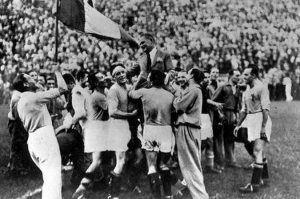 Italy's next match against Spain sparked controversy and formed the basis of rumours that fascist dictator Benito Mussolini had used his influence to secure favourable treatment for the hosts. A foul on Spanish goalkeeper Ricardo Zamora in the build-up to Italy's equaliser was ignored by the referee. A foul so heinous that it left the illustrious Spanish goalkeeper unable to participate in the replay which Italy won 1-0. Propelled by his famed Oriundo (foreign-born Italian nationals) including the likes of Luis Monti who had played for Argentina in the 1930 final as well as Enrique Guaita, Angelo Schiavio and Raimundo Orisand, Italy would go on to win their semifinal against Austria with another 1-0 victory before triumphing over Czechoslovakia in the final. Schiavo scoring the winner in extra time and frontman Giuseppe Meazza claiming the golden ball as the best player.
---
WEST GERMANY 1954
The miracle of Bern was to set the tone many Germán victories just like it. Facing a Hungary team that were overwhelming favourites to win the World Cup, Germany reached the pinnacle of World football for the first time in Switzerland. After being banned from the 1950 edition, Germany navigated the group phase thanks to some guile from manager Sepp Herberger. Due to a seeding system that ensure that the top two seeds of the group – Hungary and Turkey- as well as the bottom seeds -West Germany and South Korea- did not play each other, the Germans knew their best chance of qualifying lay in winning against Turkey and repeating the feat in a group stage playoff as their other opponents Hungary were currently undefeated in two years and were tournament favourites for a reason while South Korea who was Turkey's other opponents were never going to put up a challenge.
They beat the Turks twice, 4-1 in their first game and 7-2 in the playoffs. Both wins sandwiched an 8-3 loss to Hungary in a game played with most of their star players resting, but more importantly a game where some argued the seed of winning the World Cup were sown. A series of tackles aimed at Hungarian captain Ferenc Puskas eventually causing serious damage to his left ankle. Damage which would play a significant role in the final where Puskas appeared to struggle badly following more damage done in their Quarterfinal against Brazil dubbed 'the battle of Bern'.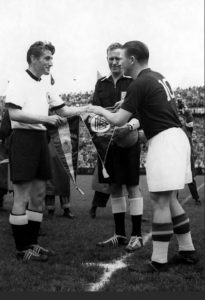 The Germans eliminated Yugoslavia in the Quarterfinal before walloping Austria in the semis 6-1 setting up a replay against Hungary in the final. After 8 minutes, it looked like a repeat of the 8-3 trouncing in the group stage tie was on the cards after Hungary went 2-0 up with goals from Ferenc Puskás and Zoltan Czibor. However, just as they had done in their semifinal win over Uruguay, Hungary allowed in 2 goals to draw the Germans level before 20 minutes and then six minutes from time Helmer Rahn scored his second of the game, completing the comeback and breaking Hungarian hearts to give Germany her maiden World Cup triumph.
---
BRAZIL 1958
"I remember seeing him sitting next to the radio, sobbing. I asked him: 'Why are you crying, dad?'. And he said to me: 'Brazil have lost the World Cup…" I remember jokingly saying to him: Don't cry, dad – I'll win the World Cup for you". The aftermath of the infamous Maracanaço of 1950 brought the conception of a dream and 8 years later, a 17-year-old Pele fulfilled the promise he had made to his father and Brazil were crowned champions for the first time in their history. Finally lifting the Jules Rimet trophy -which they would eventually win for keeps- at the 6th attempt. In that tournament, Pele shattered records that still have not been eclipsed.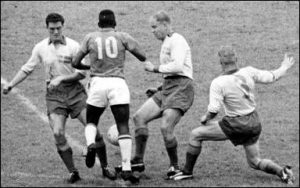 Becoming the youngest scorer at a World Cup, the youngest person to play in, score in and win a World Cup final as well as being the youngest scorer of a hattrick at the World Cup. Brazil's road to triumph started assuredly with an emphatic 3-0 win over Austria which was followed by a 0-0 draw against England before two goals from Vava in their final game against the Soviet Union effectively sent them through as group winners with a 2-0 win. Pele began his assault on the World Cup scoring his first goal in Brazil's quarter-final victory over Wales. He followed that up with a hattrick in the Selecao's semifinal victory over France who boasted the tournament's top scorer Just Fontaine who had already scored 8 times in the competition before that. His solitary goal on that night counted for little as Brazil ran out 5-2 winners. A score line they would repeat in the final against hosts Sweden with 2 goals each from Pele and Vava as well as one from future World Cup-winning coach Mario Zagallo leaving 17-year-old Pele in tears at the final whistle. Brazil had won the World Cup for the first time in their history and a Legend was born.
---
ENGLAND 1966
Led by Bobby Moore, a man Franz Beckenbauer once referred to as "the best defender ever in football" England's sole World Cup triumph on home soil is one of the most talked about events in footballing history. Unfortunately, more is usually said about the controversial 'ghost' goal that gave them the lead over the Germans in the final than the dogged displays of top-notch footballing prowess by Sir Bobby Charlton, Geoff Hurst, Alan Ball and even Gordon Banks. England started their World Cup campaign inauspiciously with a 0-0 draw against Uruguay before sealing qualification with a pair of 2-0 wins over Mexico and France. In the match against France, a crucial moment in England's eventual World Cup win occurred when the first choice forward Jimmy Greaves was injured, meaning he would be unable to play the Quarterfinal. Up stepped a certain Geoff Hurst to take his place. Hurst, who had not made an appearance until then and who probably wouldn't have made an appearance at all if Greaves was fit, would be the hero in both the quarter-final against Argentina and the final against Germany.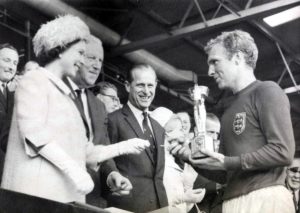 Against Argentina, following some good ol' host nation 'luck', Hurst struck in the second half to give England a slim 1-0 win. They squared up against Eusebio's Portugal in the semifinals and overcame the Black Panther and the rest of the Portuguese World Cup debutants by two goals to one with goals from Bobby Charlton. In the final Hurst, still in shock from getting the nod over a fit-again Greaves, scored the first and so far, only World Cup hattrick (including one which 11 Englishmen saw cross the line but which 11 Germans saw stay out) to give England a 4-2 win over Germany. England lifted the Jules Rimet trophy which had been stolen and recovered at the beginning of the tournament and most Germans would tell you the trophy was effectively stolen a second time.
---
ARGENTINA 1978
What's an Argentina World Cup win without a little bit of controversy eh? Before Maradona's antics in the 1986 World Cup, Argentina had already gained some infamy due to the nature of their World Cup win 1978. There were several controversies surrounding the World Cup hosted in Argentina, ranging from accusations of referee manipulation and favouritism to schedule and fixture tampering, shifting Argentine matches to later hours and making sure the hosts knew exactly what results where needed and finally intimidation and bullying of opponents. Argentina's first game was a 2-1 win against Hungary, during which the Argentines were brutally combative and escaped any harsh punishments, but the Hungarians weren't so lucky, ending the game with 9 men and a thousand complaints to the referee. Their second match, against France, was not too different. A controversial penalty giving them a 2-1 win on that occasion. In the second group phase, after both Argentina and Brazil had beaten Poland by two-goal margins and drawn against each other, it was down to the final match between Argentina and Peru to see if Argentina or Brazil would qualify for the final. 'All' Argentina had to do was win by at least a four-goal margin.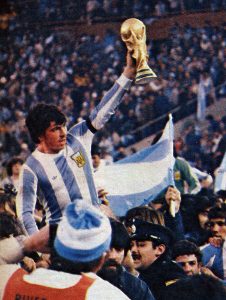 The problem was that Peru had conceded only 6 goals in the entire tournament up till that point, 3 of them coming against Brazil. In one of the most controversial matches in World Cup history, Argentina and Peru with the knowledge that Argentina would go through with a huge win because the tie was again played later than Brazil's game against Poland, played out a 6-0 scoreline in favour of the hosts. Rumours of bribes, collusion, visits by Junta generals and extradition exchanges were rife as the Albiceleste marched on to the final against 1974 beaten finalists Holland whom they overcame with goals from Mario Kempes and Daniel Bertoni.
---
FRANCE 1998
The World Cup had to wait two decades to see a new team lift the trophy as France became the latest in a long line of victorious hosts. The French who had missed the 1994 tournament after an unfortunate error by David Ginola in the final minute of their qualifiers against Bulgaria and had only gone as far as 2 semifinal defeats in 1982 and 1986 were by no means unworthy of their triumphs, even though some would say they got lucky thanks to Ronaldo's seizures before the final. They qualified top of their group with wins over South Africa and Saudi Arabia but against the Arabs, they lost their star playmaker to a rash stamp on a Saudi player which earned him a red card.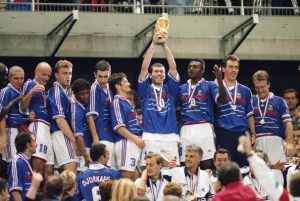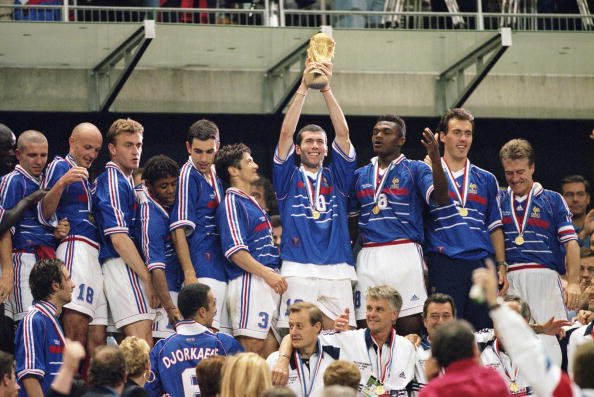 They continued to soldier on without him, drawing against Denmark in their final group game before becoming the first beneficiaries of the new golden goal rule when Laurent Blanc scored in extra time to earn them a win over Paraguay. They were held all the way to penalties by Italy in the quarter-final but eventually triumphed on penalties. The decisive penalty missed by Luigi Di Biaggio, a slightly different name from Roberto Baggio who had denied Italy the World title win a miss of his own four years earlier. In their semifinal against Croatia, they needed two goals from full-back Lilian Thuram to save their blushes against newcomers Croatia. Zidane who had been touted as France's heir to Michel Platini was yet to stamp his authority on the finals like he did the Saudi Arabian player in the group stage. But his time would come, and his knack for a big final performance was born. An underappreciated masterstroke from head coach Aimé Jacquet proved decisive in the final against the swaggering Brazilians who seemed to have lost the pep in their step in the final. He insisted Zidane be in the box to attack the corners and free kicks instead of being the deliverer as he often was. This worked to great effect as Zidane scored two headed goals from corners, the second a replica of the first, to all but hand France the title for the first time. Desailly's red card in the late stages of the game mattered for little as Emmanuel Petit put the icing on the cake of a well-deserved 3-0 victory for Les Bleus.
---
SPAIN 2010
After being denied for many years, through more than a few 'golden generations', after many years of being nullified by their own ineptitude and many more years of being denied by factitious refereeing calls, Spain finally did it, they finally got their hands on the World Cup title and banished the 'choker' tag they had been burdened with for far too many years. In their most glittering of golden generations, Spain's World Cup triumph in 2010 at the Soccer City Stadium in Johannesburg was sandwiched by consecutive European Championship wins as La Furia Roja dominated the footballing scene. Their opening game suggested anything but a World Cup win in waiting as Spain lost 1-0 to Switzerland.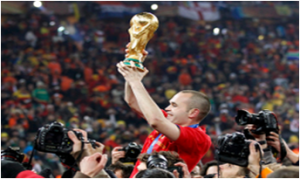 As nobody had ever recovered from an opening day loss to lift the World Cup, Spain was already being ruled out as contenders in some quarters, virulent tabloids back home already typing their drafts just waiting for the inevitable choke. They would wait in vain however as La Roja resuscitated their World Cup dream with a 2-0 win over Honduras in their next game, following it up with a 2-1 victory over Chile to book passage into the next round.
The goal they conceded against Chile would be the last one they let in, as they went through all four of their knockout games without conceding a single goal. Often simply patiently passing their opponents to stupor, before finding space to exploit, Spain dominated matches but only saw fit to score a goal each in the round of 16 against Portugal (David Villa), the quarterfinal against Paraguay (Villa again) and the Semifinal against Germany (Carles Puyol of all people). In the final against the Dutch in what was a battle between two buffers, and oh it was a battle, Spain were victorious despite the Oranjes best attempts to stifle Spain's fluid passing game with several ill matured challenges including a famous Kung Fu Kick by Nigel De Jong to Xabi Alonso's chest which only attracted a yellow card. The goal coming six minutes from the end of extra time as Andres Iniesta latched on to a pass from Cesc Fabregas and lashed the ball home to give Spain their first ever World Cup win.
Written by: Ayoola Kelechi (@ayoola_kelechi)
Comments
comments