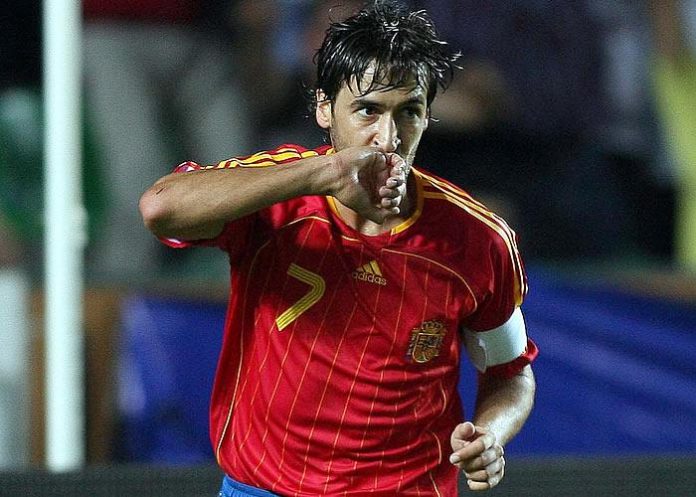 There's a popular myth that Raul Gonzalez never had good enough players around him in his time. This has been given as a comfortable excuse for so many things. From the fact that he never won any international trophy to things as ludicrous as the reasons he scored 'only' 44 international goals in 102 games, compared to the ratio by the newer players. It's clearly rubbish, and I can prove it.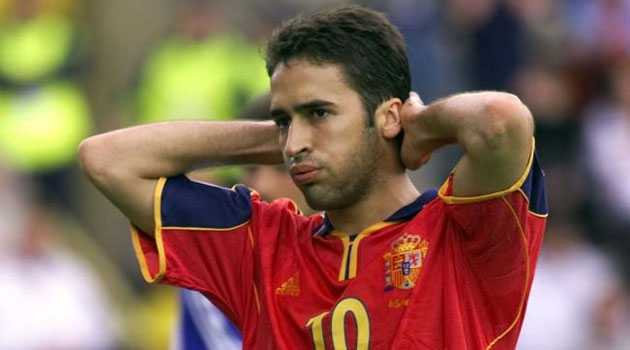 Below are some of the players Raul had around him in the national team during his time.
Abelardo
The Asturian was one of the best defenders in the world for a good number of years. A mainstay in Barcelona's team, he won 2 La Liga titles, 2 Copa Del Rey titles and more. He also won an Olympic Gold medal with Spain. For Barca, he played 179 league games in 8 seasons for the club, leading from the back. Simply put, he was solid, very good at his job and experienced. He played at the World Cup in 1998 and Euro 2000.
Fernando Hierro
Considered one of the best defenders of all time, Hierro was an intelligent, technically gifted defender. He could also play as a midfielder. Because he was great at set pieces, he scored lots of goals. For a long time, he was Spain's second highest scorer with 29 goals. He is also one of the highest scoring defenders of all time (134 club goals). Hierro also led Real Madrid to 3 Champions League triumphs and was named UEFA Club Defender of the Year in 1998. He was in the FIFA XI for 3 consecutive years and made the FIFA World Cup team of the tournament in 2002.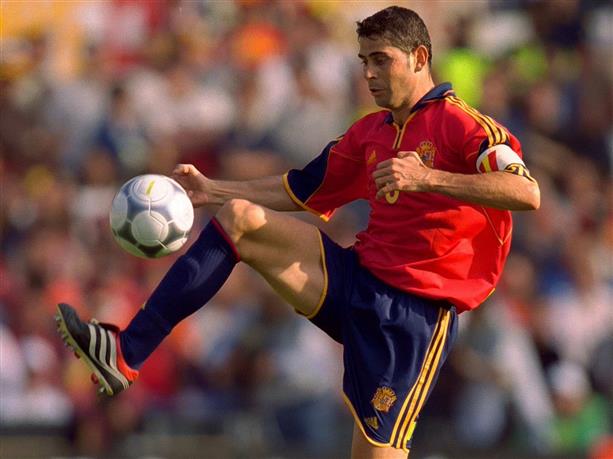 Sidenote: He won 5 La Liga trophies too. Clear winner! I still consider him Spain's best defender of the modern era.
Luis Enrique
Luis Enrique was a gifted, versatile player. He won Olympic gold with Spain and led Barcelona to 2 consecutive La Liga triumphs. He was Barcelona captain for years and was generally regarded as one of the best players around during his prime. He's also quite the character! He played at the 1998 and 2002 World Cups with Mr Raul.
Alfonso
Alfonso was the man that kept Spain in Euro 2000 with his brace against Yugoslavia in their last group game. The winner came as the match was coming to an end; a beautiful volley to take the scores to 4-3. In his club career, he was 2nd top scorer in La Liga in 1996/1997. He scored 25 league goals; only Ronaldo De Lima scored more. He was also named Spanish Player of the Year in 1998 and was in the team that won Olympic gold. He played at  both France '98 and Euro 2000.
Gaizka Mendieta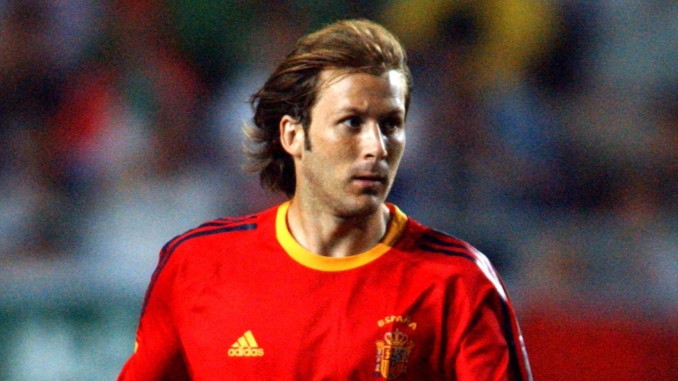 Gaizka Mendieta was one of the most gifted players of his generation. Valencia captain for many years, he was one of the best midfielders in the world. In 1999, he led Valencia to a Copa Del Rey triumph, scoring an incredible goal in the final. The next two years, he led the club to 2 UEFA Champions league finals, scoring in one. He was named UEFA Best Midfielder in 2000 and 2001. He played at Euro 2000 and the 2002 World Cup, scoring 3 goals.
Juan Carlos Valeron
There are very few players as good on the ball as Valeron, ever. He possessed incredible technical ability, vision and creativity. All these he did with grace. Valeron dictated games and was an excellent passer. Before Iniesta and Xavi, Spain had Valeron; a player who combined their best abilities and more. A star in Mallorca's wonder team of the 90s under Hector Cuper, he moved to Atletico Madrid and then Deportivo where he made his mark. He was a key part of the great Deportivo team of the early 2000s) which made it to the Champions League semis (and beat Real Madrid at the Bernabeu in the Copa Del Rey finals during their centenary celebrations. Valeron played at Euro 2000 and 2004 as well as World Cup 2002.
Fernando Morientes
Fernando Morientes was a fine striker who often played off Raul for both the national team and Real Madrid. He still had many doubters until he was sent out to Monaco on loan and produced amazing performances in an incredible season that saw them reach the Champions League finals. In his early years, he scored a lot of goals, including one in the 2000 CL finals versus Valencia. He scored a brace on his national team debut and has one of the best goal-scoring returns for Spain (in terms of goals/game); 27 goals in 47 games.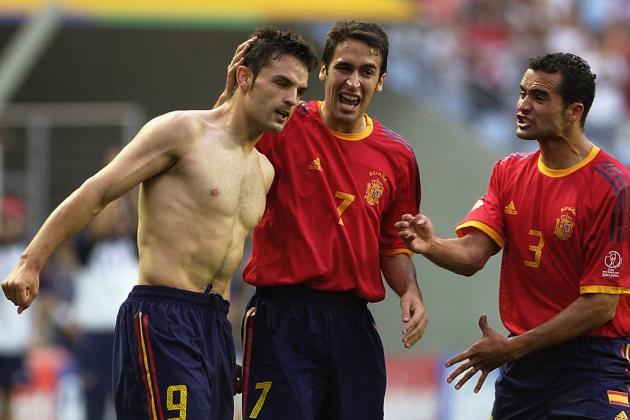 He scored 5 goals in the 2 World Cup tournaments he participated in (adding another in the quarter finals against South Korea that was wrongly disallowed by that horrible referee). He also scored 1 of Spain's 2 goals at Euro 2004. Also, Morientes was UEFA Club Forward of the Year in 2003/2004 as well as CL top goalscorer.
Ruben Baraja
Ruben Baraja was one of the most complete midfielders of his generation; great defensively and offensively. He was an incredible passer of the ball who always popped up to score vital goals. A key part of the Valencia team that won 2 La Liga titles in 3 years in the early 2000s as well as the UEFA Cup, Baraja was part of the Spain squad at the 2002 World Cup and Euro 2004. Although criminally underrated, he was still recognised for his consistent quality displays most notably against Real Madrid's Galacticos.
David Albelda
Albelda was a tough defensive midfielder who was Baraja's midfield partner for years. They were an incredible, balanced duo who dominated most midfields they went up against. Albelda, Valencia's long-time captain, led the club to 2 La Liga triumphs and was part of the Valencia squad that reached 2 CL finals. Ever-present and heavily influential, Albelda represented Spain at 3 consecutive tournaments. He also won Silver at the 2000 Olympics for Spain.
Iker Casillas
This man reached world class level at 20. The rest is history. If you know, you know. Starter at World Cup 2002, Euro 2004 and World Cup 2006 with Raul, San Iker was world class all through this period. You know the rest.
Ivan Helguera
Ivan Helguera was a key part of the Real Madrid squad that won the Champions League in 2000 and 2002 as well as 3 La Liga triumphs. Solid and imposing, Helguera could play both Center Back and Defensive Midfield positions excellently. He was a fine partner for Hierro at the back and was quite reliable.
Miguel Ángel Nadal
Miguel Nadal, the uncle of Tennis star Rafael Nadal, spent most of his career at Barcelona. Nicknamed "The Beast", he was a tough, versatile defensive player.  He won 16 trophies in his career, including 5 La Liga titles. Nadal was a key player all through those triumphs. He also represented Spain at three World Cups.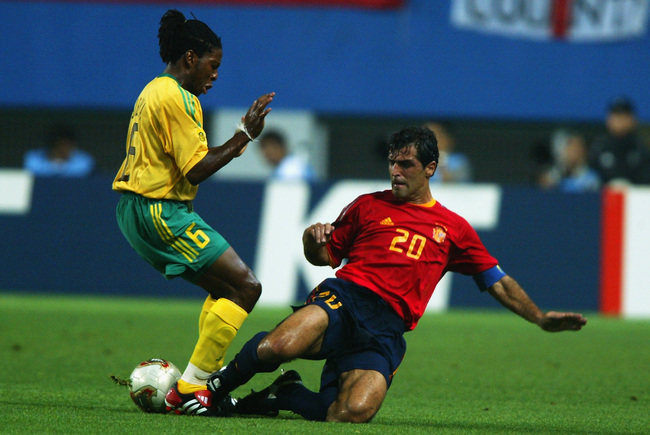 There were other top class players in the Spain squads between 1998 and 2006 such as Vicente, Joaquin, Joseba Etxeberria, Sergio, Diego Tristan, Curro Torres, Santiago Cañizares, Pep Guardiola and more. To say that Raul didn't have quality players around him or world class talent or even world beaters is completely false. He did.
I've heard some arguments that Spain were not on the level of the top national teams of the time. It's funny to hear considering CL champions in the years of the 1998, 2000 and 2002 competitions were Real Madrid, with a strong Spanish core. Not just that, there were 3 Spanish teams in the CL semis of 2000, all with strong Spanish cores. They were clearly world beaters. It's even funnier when you consider that this wasn't the case in 2008, 2010 and 2012; 2 English winners and one Italian winner. No Spanish club even made the CL final in those years.
Now let's also look at how Spain exited those tournaments.
France 1998
Spain were in the same group as Paraguay, Nigeria and Bulgaria. They were far and away the strongest team on paper. It wasn't even close. Losing against Nigeria in the first match after twice taking the lead was poor, especially with the goal conceded by the legendary Andoni Zubizarreta; 120+ capped winner of 15 trophies including the Champions League.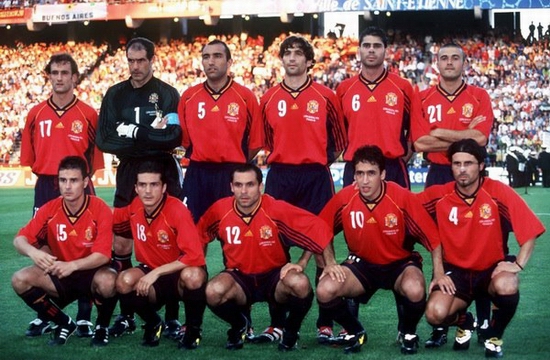 They were supposed to make up for that loss by beating Paraguay. They played goalless. Raul, Pizzi, Kiko and Morientes couldn't get past Chilavert. By the third game, Spain needed Nigeria to get at least a draw off Paraguay. Unfortunately for them, Paraguay beat Nigeria comfortably and Spain were knocked out, despite putting 6 goals past Bulgaria. Spain scored 8 goals in that tournament, Raul scored just one. Morientes played only 2 games, starting just the final game. He scored twice.
The whole squad was to blame for the early exit. Blaming the exit on the quality of the players in the squad is folly. They should have easily gone through that group.
Euro 2000
Spain were in a group with Norway, Slovenia and Yugoslavia. Once again, they were far and away the best team on paper. They came into the tournament having seen 3 Spanish teams reach the CL semis, with an all-Spanish final. They also had the UEFA Club Forward of the Year – Raul – and the UEFA Club Midfielder of the Year – Gaizka Mendieta. The thing is, they just loved making things hard for themselves.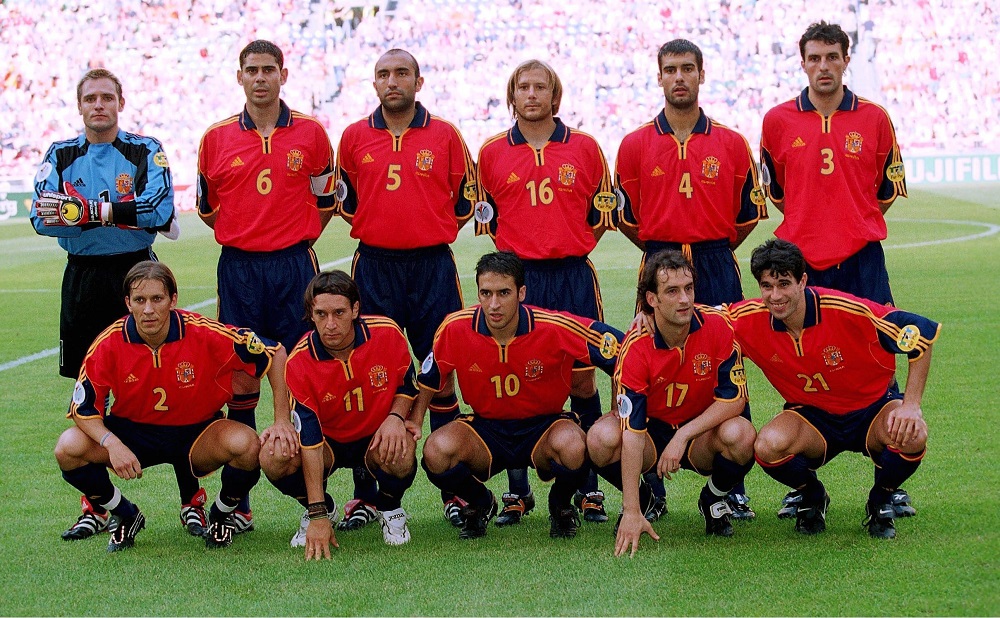 Their first game? The lost against Norway. They failed to score, in spite of their strong attack. The next game against Slovenia should have been a straightforward win. Raul scored after four minutes. The special Zlatko Zahovic equalised before Joseba Etxeberria scored the winner a minute later. Now, all they had to do was win their last game, right? Right. In their final game, with Hierro absent, they went behind twice and equalised. They went behind again, this time with Yugoslavia reduced to 10 men, until the 94th minute when they got a penalty which was scored by Mendieta. A minute later, at the death, Raul's strike partner, Alfonso, scored a gorgeous winner. 95th minute, Spain were through as group winners.
In the quarter finals, they faced the star-studded World Cup winners France and matched them. They were down 1-2 and got a last minute penalty. Guess who missed it? Raul. Spain were knocked out. For the second tournament running, Raul could only score a goal. He also missed the decisive penalty that saw them exit the tournament. Alfonso, who started only 2 games scored two goals, including the goal that took them to the quarter-finals when Raul went missing. Once again, it had nothing to do with the squad lacking quality.
World Cup 2002
Spain, once again, had a straightforward group. This time around, they didn't make it hard. They won all their group games, with Raul scoring 3, including two in the final group game against South Africa. Morientes came off the bench, in the second game, to turn the game around against Paraguay with a brace that took Spain through to the next round after they had gone behind early to a Puyol own goal.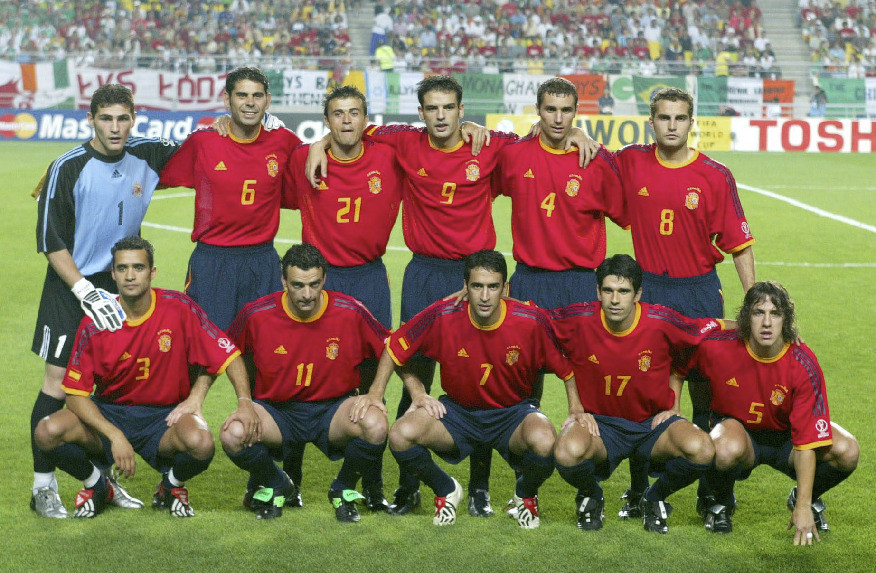 In the second round against Ireland, Morientes, again, popped up with a goal. Spain were on their way to the next round before Hierro caused a last minute penalty. Earlier on, Ian Harte had had his penalty saved by Casillas after Damien Duff was brought down by Juanfran. Robbie Keane scored the last minute penalty and the game went into extra time, then penalties. Iker Casillas saved three penalties in a row and Mendieta scored the final penalty to send Spain through to the quarterfinals. They were robbed in broad daylight when they faced co-hosts South Korea . Spain had two legitimate goals disallowed, scored by Ruben Baraja and Fernando Morientes. They were eventually knocked out on penalties after Joaquin missed.
Raul scored 3 in this tournament, 2 of which came after qualification was assured (against South Africa). Still, credit to him for that. The goals ensured Spain topped their group and avoided Germany for the time being. It was Morientes that showed up when Raul got injured in the second round game against Ireland. Spain would have made the semis if they weren't robbed against Korea. From then, anything could have happened. They could well have made it to the final or even won the tourney.
Euro 2004
Spain went into this tournament as one of the favourites. They had a young Torres who was already very good. They also had Vicente who had just led Valencia to a league and UEFA Cup double, Joaquin who was in amazing form, Morientes who had just led Monaco to the CL final winning CL top scorer and UEFA Forward of the Year and a bunch of other stars. The team was overflowing with quality.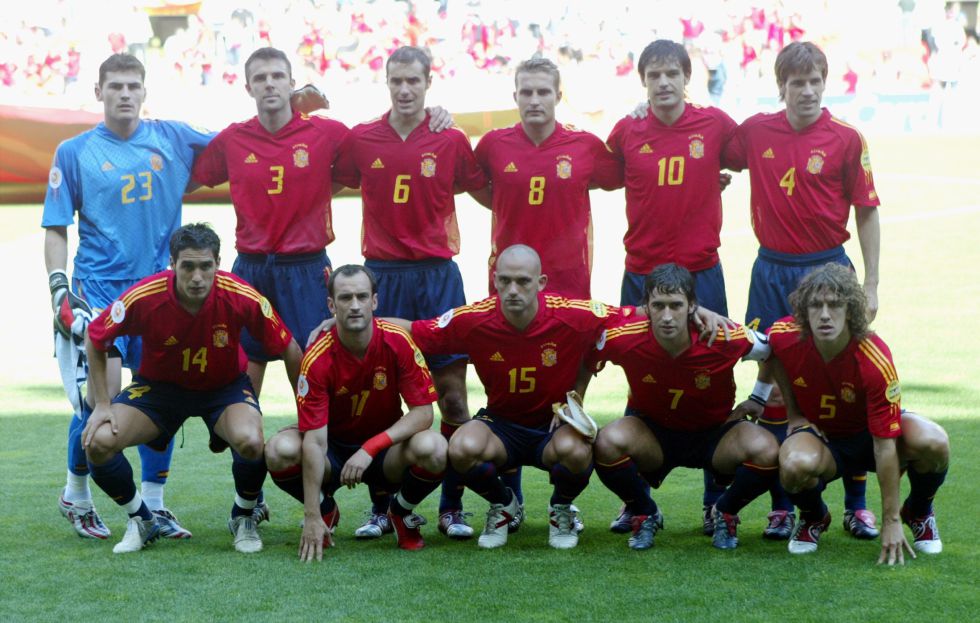 They won their first game against a resilient Russia, thanks to a goal from Valeron a minute after he came off the bench. In the next game against Greece, they raced into an early lead before Charisteas equalised. They couldn't find a way past Greece after that and ended up playing 1-1. Their last game was against hosts Portugal who needed to win in order to qualify. A Nuno Gomes goal gave Portugal the victory in a disappointing game for Spain. Iñaki Sáez's bizarre decision to drop Morientes and Baraja proved costly. Spain were knocked out. Raul failed to score in any of the games despite starting all three. He had quality all around him.
World Cup 2006
By this time, the old guard had been phased out and newer, younger players had come in; the next generation. Spain dispatched Ukraine 4-0 with a brace from Villa. Raul replaced Villa in the 55th minute. He replaced Villa again in the next game with Spain down 0-1 to Tunisia, and Raul scored the equaliser to rescue Spain. A Torres brace came after and Spain were through. He started the final game and was replaced by Villa after the first 45 minutes. Spain won and ended the group stage as group winners.
In the second round, they faced France. Luis Aragonés went with a 3-man attack of Villa, Torres and Raul. After going into an early lead through a David Villa penalty, Spain were pegged back by Frank Ribery. They went on to lose to a French side that had been lacklustre all tournament but found their form that day, inspired by the legendary Zidane. They were out. Raul exited the tournament with one goal scored, the all-important goal against Tunisia. That was his last international tournament. He never scored a knockout goal for Spain.
Verdict
In 5 tournaments for Spain, Raul scored 6 goals. In 5 of those 6 tournaments, Spain failed to get to the last 4 in spite of their quality. Raul also played a huge part in that by not showing up every time it mattered. Morientes was always more likely to pop up, and he did a few times. Blaming the players around Raul for Raul's failures with the national team is not just ridiculous, it is a clear attempt to rewrite history. He had everything he needed to take Spain to the next level, especially between 1998 and 2002 when he was at his best. He completely failed. And that's on him. In Slake's opinion, of course.
Article By: Astore, @Cerebrone 
Comments
comments