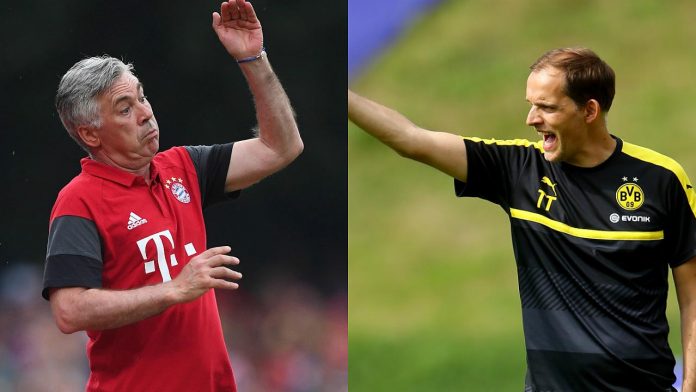 We look to the coming season with daily previews as Europe's Top 5 leagues resume.
The football superpowers that brought you goal-line technology & magic spray have yet a few more tweaks to our beautiful game. Brace yourselves, summer football is upon us!
Earth will experience kick-off like never before. Perhaps a one-man kick-off? (Hey Zlatan Ibrahimovic!) The tweaks in question? The ball can move in any direction rather than just forward alone! Need an ode to the good old Viera-Keane pre-match feud days? Referees now have the authority to brandish pre-match red cards.
Gone is the infamous defender-slaying 'triple punishment' for the denial of an obvious goal scoring opportunity. It's a brave new world folks!
Bundesliga
Bayern Munich's monopoly remains unchallenged amidst reports of €528.7m in revenue from last year. Such a healthy bank balance has paid off the Allianz Arena loan. That is a stunning 16 years ahead of schedule.
Little wonder the Carlo Ancelotti-led side keeps shopping at its favourite talent-mart, Borussia Dortmund. The latest of such acquisitions? Former Bayern academy alumnus, Mats Hummels. This might upset the fans of the Ruhr based side of course but Karl-Heinze Rummenigge is not losing any sleep.
Shipping out another prodigal son, Mario Gotze, alongside Sebsastian Rode in the opposite direction has hardly weakened the German giants. Mehdi Benatia's been given a return to Italy with Juventus, while Renato Sanches has come in from Benfica. When both teams clash, it will be interesting to see how these sub-plots play out.
With FOX acquiring broadcast rights, more European superpowers are expected out of Germany. Despite Bayern's recent dominance, others are hopeful. Dortmund's activity in the market is not to be scorned at. The same can't be said for Wolfsburg, Schalke 04 or Bayer Leverkusen.
Dortmund poses a significant German title challenge. Finishing 2015/2016 with the highest points total for a runner-up was remarkable. Thomas Tuchel's market forays have produced 8 incoming transfers apart from Gotze.
Reinforcements at Signa Iduna Park include Ousmane Dembele, Emre Mor and Marc Batra from the famed Las Masia academy. Does this compensate for the Ilkay Gundogan, Henrikh Mhktaryan and Hummels exits? We will have to wait and see. Pierre Emerick Aubameyang will look to keep up his blistering form alongside Marco Reus. That is if the latter stays fit.
Wolfsburg's Julian Draxler drama continues. Arsenal have been linked but Klaus Allofs is not keen to sell. Letting both Andre Schurrle, and the former Schalke youngster leave together seems out of the question. The player is rumoured to be after an exit creating quite the impasse. This could leave Germany throwing angry glares at England.
RB Leipzig will make a debut in the German top flight. Appointing former Schalke 04 boss Ralf Ragnick as Sporting Director is starting to bear fruit. Not everyone is chuffed at that prospect though.
Being flush with cash in a manner different to other clubs could dominate headlines. The club's ownership structure has raised eyebrows all over the league. It could get much worse. Still, the rich newcomers are here to stay, for now.
Just another fun fact: Germany loves a good old match day sip or two, or a million. The current record from the 2005/2006 season saw spectators consume a whopping 3 million litres of beer!
Article By: Abdul Kareem, @Seyhleb
Comments
comments