It's deadline day and Arsene is once again pulling his hair out searching for options to bolster his defense after suffering another mauling and with the potential exit of one of his starting centre backs.
MAURICIO LEMOS: On the books of La Palmas and with a £26m release clause. He rejected Barcelona last year amid doubts of a first team place. A move to Arsenal not only guarantees a step up but also a first team berth.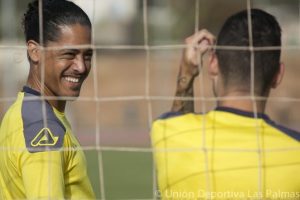 DANIELE RUGANI: Juventus defender Rugani is a bright young Italian Defender who signed for Juventus last season but has found playing time somewhat limited. His fortunes improved with the sale of Bonucci but the signing of Howedes from Schalke could cause his head to turn elsewhere in search for first team action. He could be available for between £40-£45m.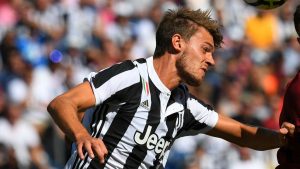 VIRGIL VAN DIJK: The obvious choice for most fans after impressing in the EPL for the past 2 seasons. The number 1 constraint would be cost however with Southampton looking to make him the most expensive defender in the word with their asking price of £75m.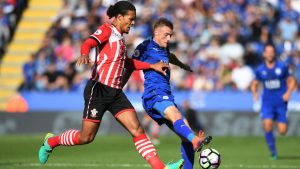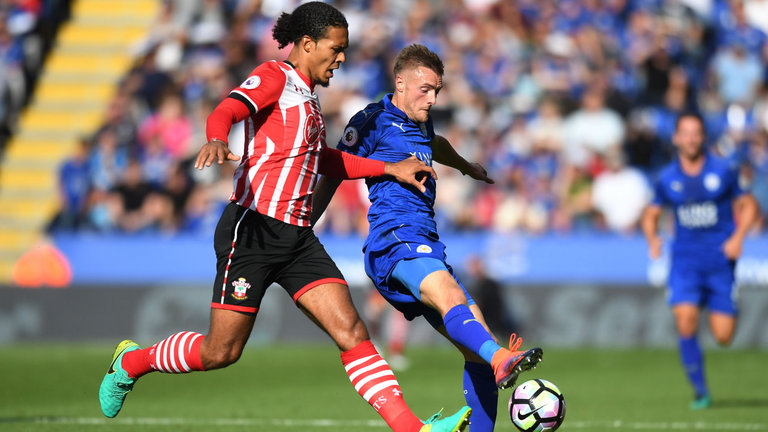 Why Wenger should want them:
They can actually defend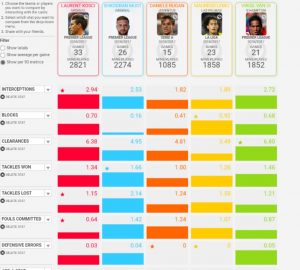 As the chart above show, none of them are slouches when it comes to defending at least not when compared to the players who are currently at Arsenal. Not only are they all more willing to put their bodies on the line for a block (at least more than Mustafi). They are also more careful with their tackling. While Mustafi might best them in terms of sheer number of tackles attempted (almost 4 per game), he tends to be messy with his tackles, landing only 43.7% of attempted tackles, the lowest of the bunch followed by Rugani with 44.6%, Lemos with 44.8%, Koscielny with 53.8 and topping that category is Van Dijk with 54.7%. The repercussion of a defender who just dives into tackles? He commits fouls and puts the team in trouble. It is no surprise that Mustafi has committed the most fouls, and has been booked the most times for bad tackles.
Not to be too hard on Mustafi however, he was second for interceptions behind only Koscielny. An area all the others would have to improve if they are to fit into Arsene's highline to prevent passes going past them.
Speaking of going past, Rugani leads the way in terms of not letting players get by him, being beaten only 0.1 times per game in the Serie A last season, compared to Lemos' 0.2 per game and Van Dijk's 0.3. This is an area where Arsenal seem to be currently lacking with Koscielny beaten on average 0.6 times per game and Mustafi almost once every game at 0.8 times per game.
Ball Playing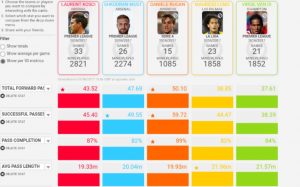 With Wenger insisting on playing 3 at the back, and Ramsey forever foraging forward to help out the attack, it leaves Xhaka in a tight spot with one less option to give the ball to when he has it, this problem could be solved by having defenders who are comfortable on the ball. Such solutions could be seen when Barcelona played with 3 at the back with Busquets having the option of giving the ball to Mascherano on his right or Umtiti on his left, knowing fully well such defenders are capable of attracting pressing forwards to themselves and giving an accurate enough pass back into the midfield. Monreal on the left is capable enough but with the left footed Xhaka more likely to pass to the right, passing to an open player has become somewhat of a problem. A problem that could be solved by someone like Rugani who doesn't shy away from passing attempting around 67 passes per 90 minutes. At least 7 more Arsenal's current best Mustafi, and with a good number of them going in the direction the Arsenal fans would love to see the ball move. While Van Dijk and Lemos may lag behind in sheer volume, their percentage of completed passes cannot be denied, again Rugani leading with 89% but the rest are not too far behind all above the 80% mark and all with average pass lengths around the same level between 19-22m, it's not far fetched to say that they very likely to fit seamlessly into the Arsenal team and system.
Article By: Ayoola Kelechi, @ayoola_kelechi 
Comments
comments