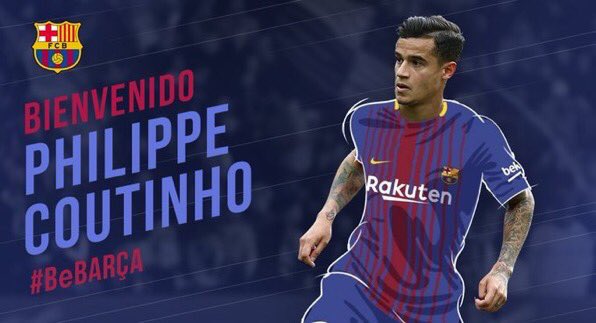 Following Phillipe Coutinho's move to Barcelona, there has been a lot of reactions from all quarters about the fee, reasons behind a move in January and desired role for the Brazillian magician. Many have touted him for the Iniesta role (Including the Barcelona board) while others see him as a direct replacement for Neymar. Here, the 352 team discussed amongst other ridiculous things how well Coutinho will fit at Barcelona and where he fits best.
Kelechi: Do you guys remember what we were talking about on Twitter? About Coutinho not having much influence if he's not on the end of stuff?
Iniesta's xGChain per 90 this season is 0.69 while his xGbuildup per 90 (same thing, but minus shots and direct chances created) is 0.63
For Coutinho xGChain is 0.7, while xGBuildUp is 0.29
Uti: What is xGChain?
Kelechi: Basically involvement in the build-up to a goal/chance.
Uti: Iniesta and Coutinho are not exactly the same type of players. Also, you have to factor in style of Liverpool.
On a purely technical/tactical skill set value, he can become more involved in the buildup. I cite KdB again, KdB is more end of stuff guy. Now he has watered it down a tad to fulfill his new role as a playmaker.
Kelechi: Of course but the popular belief is that he's coming to replace Iniesta and play in that role, which has always been what worries me. If he was playing on the wing, I wouldn't be bothered. But for a CM to have such little influence on a game when he's not shooting or playing a final pass, especially at Barca isn't the best. If he gets more involved with buildup without obsessing on taking things into his own hands, that'll be fine. If you say he has the skill set to do it. Okay, but we'll have to see innit?
Zubair: HE DOESN'T HAVE THE SKILL SET, BRO! That is why I actually don't rate him much. He is very silent when he's not scoring or assisting
Uti: Liverpool's game is counter-pressing. When they create a chance, only two or three players are involved. They run straight at you.
Zubair: Even when they play small teams? He'll do great work at Barcelona because he has better teammates and the opposition are generally weaker but man, Coutinho at CM is a dead guy.
Uti: Does their system change vs small teams? He's even played as a 10 and on the left wing this season. Also. Valverde is playing 4-4-2 like Aragones did in Euro 2008. He'll interpret the role more like David Silva did that year.
Zubair: Yes, duh. They play a more possession-based style vs small clubs.
Oyax: I thought there were no small teams in the EPL? Will Coutinho make Valverde tweak his system a bit?
Paolo: There are small teams in the EPL. Isn't that where Tottenham play?
Uti: If Paulinho can make him tweak, then Coutinho definitely can. Rest assured, Valverde is tactically versatile.
Oyax: Honestly, I don't rate all these xG stats. Some things will never ever be captured with stats.
Kelechi: Then see it in terms of chances created and build up. When he doesn't create the chance himself, he's almost absent from the build-up and has little influence on other chances created. Probably very low assists to assists and such.
Uti: Point is no Liverpool player is really present in the build-up because it almost doesn't exist (except maybe DM and defenders). 2/3 people touch ball and they are taking the shot.
Oyax: This isn't even true fam. I watched a reel of Coutinho's involvement last night. YouTube Liverpool's goals this season. Coutinho touches the ball almost all the times he's on the field. Especially the counter attacks.
Zubair: The first part is also a myth Liverpool are a different team vs smaller sides. They play possession-based, slow(er) build up with several passes. Of course, they can run so there's still races but it's not like vs Chelsea or City.
Kelechi: Lol, it's not that simple bro. There are people involved in the build up more than Coutinho, in fact, he's the least involved of the CMs. Only wingers and CBs are less involved in build-up than him. What's more worrying is only wingers and CFs have the same kind of gap that Coutinho has between xGchain and xGbuild up.
Uti: So if Coutinho doesn't have a high xG buildup, who does? Can? Wijnaldum?
Zubair: Check for Fellaini. I'm sure he's in Coutinho's range.
Kelechi: Can, Henderson, Firmino too.
Oyax: Hmm. This thing is too ambiguous and it'll be relying on the eye test, except we go back to analyze every goal. If it's with respect to where he plays from, I'd rather in the middle than on the wings. Leave Alba to be doing what he's been doing.
Zubair: You realize that Coutinho gets hauled off more often than the other stars?
Summarily, he is rubbish when not in form (which for him means assisting or scoring) and really doesn't do enough for buildup
Uti: This is a weak argument. Your conclusion doesn't follow your premise. Is that why Mane gets hauled off too?
Kelechi: Mane doesn't do much in the build-up too, it's not really expected for a winger.
LL: Isn't something like this dependent on the team's style of play? Or will Iniesta come and be massaging ball in Klopp's gung-ho system? He can play the Iniesta role, Kelechi is just a hater.
Kelechi: Nobody is saying massage ball, but his contribution to building up seems low, even when compared with other Liverpool players. How come?
Uti: Coutinho has played CM only 6 times in the PL though. He's played other positions too. Played on the Left wing 7 times and at AM once too.
I'm sure if he played CM as often as Can, he'd be that high.
I think I get why Firmino has high XG buildup. False 9 backing play, acts as a wall for onrushing CMs. Sort of what people claim Benzema is doing instead of scoring goals like a normal striker.
Kelechi: That's basically half of the time he's on the pitch either way, but he's still closer to Salah and Mane than he is to CMs/AMs. Well, God knows best.
Zubair: Don't you guys have flashbacks of Coutinho ending moves with wayward behavior from deep because he wants to take on the game by the scruff of the neck? Like, trying to dribble from deep and make intricate (albeit useless) passes? His best is with his back to the line, side eye on the keeper and receiving the ball on one side of the pitch.
Uti: That won't be happening in Barca as often
LL: He's doing what the coach is telling him to do. You have to agree that anything a player is doing on the pitch is 90% down to instructions.
Zubair: I do think that Coutinho will be best suited as part of the attacking trio with Suarez making his way to the bench and Messi playing as a false 9, with Dembele on the other side laying waste to La Liga defenders while setting up Coutinho for long shots. Coutinho in central midfield looks like he will be undermined to the detriment of Barcelona and the player himself.
---
What are your thoughts on how well Coutinho would do at Barcelona and where he will fit best? Leave us a comment!
---
The 352 Team:
Ayoola Kelechi, @Ayoola_Kelechi
Zubair Santos, @Zubairthedream
David Uti, @David_Uti
Oyax, @MrOyax
LL, @Omnisavage
Paolo "The Man" Abamwa, @PaoloKonqueror
Comments
comments