So it's 4 games into the 2016/2017 English Premier League season, and while it's still too early to make solid predictions about the title race, we've seen a few telling things already. My prediction/analysis is going to be based on the summer transfer window, how the team has played so far/results, coach ability, and my good old intuition.
So who are the contenders for the title come May? In no particular order;
Manchester United
Summer saw the arrival of Jose Mourinho as coach. One of the greatest managers ever, coming to one of the greatest football sides ever. Match made in heaven? Seems like it. Jose identified 4 profiles/positions in the United team that needed improvement, and got all 4.
A commanding Center Back (Bailly),
A powerful central midfielder and runner ( Pogba ),
An attacking midfielder with a change of pace ( Mkhitaryan ), and
A prolific center forward ( Zlatan).
3 successive Preier League wins followed, before the unfortunate but instructive derby loss to Manchester City.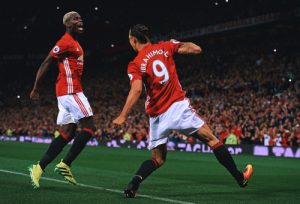 The team is primarily set up in a 4-2-3-1 , with the wide men in the 3 behind the striker instructed to come infield most times, create an overload advantage in the midfield for the Red Devils(which drags the outside opposition defenders infield).
This creates space for the fullbacks to attack and cross in. Ibrahimovic especially has benefitted from this set up, same as Antonio Valencia and Luke Shaw who have the license to attack, attack, attack. There is still a possibility for a switch to 4-3-3 at some point, but for now this is what Jose will use.

This set up, along with the playing personnel and coach is enough to beat most of the 'small' and 'average' teams. Games against the big boys will be down to more tactical issues and planning (the game against City is a perfect example).
Overall, Manchester United will be there or thereabouts come May. They have the players, the coach (3 time EPL winner), the determination to get back to the top, and a certain swagger about them that has been missing the last 3 years.
Manchester City
The 'noisy neighbors' aren't just about noise these days, they are here to stay and contend for every trophy possible. Pep Guardiola has come into the Premier League, and we have immediately seen his imprint on the team. A 6 time league winner (3 in Spain, 3 in Germany ), he is no stranger to winning. Even a 'newcomer' to the English Premier League, he is going to have a big say on where the title goes in May.

City had a very good transfer window, players were bought to fit into the 'Pep style'. Nolito, Leroy Sane, John Stones, the increasingly popular ball playing Centre-back, Ilkay Gundogan, etc. Add these to David Silva, Kevin De Bruyne, Sergio Aguero, and a born again Raheem Sterling, and you have a fantastic team.
The team plays with a revolving formatio, starting almost like a 4-1-2-3, with Fernandinho sitting in front of the defense. Once play starts, the City fullbacks often move infield to the center (creating an overload). Consequently, Fernandinho drops vertically backwards in between the 2 Centerbacks, who move a little horizontally to the sides.
This set up enables City to build from the back very well. If the opposition midfield tries to press Fernandinho to counter this, they are drawn out of position. If they don't, City get to build, Silva and De Bruyne drop into spaces and even pull out more opposition defenders. Before you know it, Aguero would have torn your net.

So they have the coach (one of the most intelligent ever), players, playing style, and mentality to do it. Expect City to be a serious contender.
Outliers
Chelsea
Arsenal
Interesting season ahead, lots of ups and downs for all teams to come too. United and City are going to go neck to neck all the way.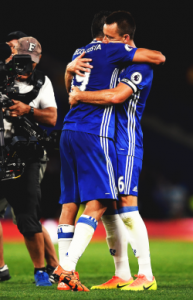 Come May, it may even be someone other than the Manchester clubs, but on this day September 12, 2016, this is my season prediction on the Premier League race/contenders.
Article By: Osagie Otoiks, @Otoiks
Comments
comments