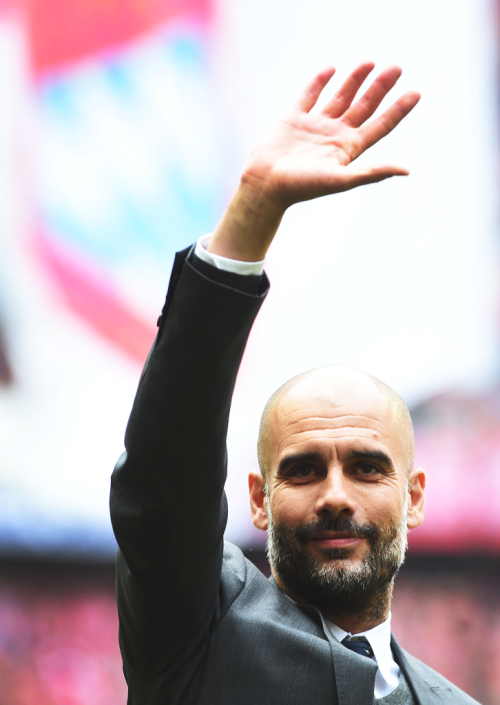 Dear Reader,
How are you doing? I hope this meets you well? How has the football season been so far? Exciting, maybe dramatic? None of the above? Well, I guess it's still early days and the action is just about gathering momentum.
It could also be about the club that you support. Which football club has got your heart? How have they fared so far this season? I'd like to know your thoughts about their performance this season. You can leave me a comment at the end of this piece and share your thoughts – or your frustrations – with me.
While you're getting ready to do that, let me quickly tell you about how the club I support has fared so far this season.
The last season ended on an incredible low for Pep Guardiola and the Cityzens. One of the oldest squad in the Premier League ended the campaign without a trophy and forced Pep to put round pegs in square holes too many times.
That was last season.
Although this new season has started just like the last ended, it's been a different City altogether. Still suspect at the back, they've been banging in the goals for fun, and putting their opponents to the sword; either by scoring six times in a 90-minute duration or by scoring a 97th-minute winner.
Manchester City are only the 4th team in England's top flight to beat the same team by 5+ goals in consecutive away games. (Opta Joe) pic.twitter.com/UkifSMb6wN

— Inside MCFC (@inside_mcfc) September 19, 2017
It's an entirely new side – well, almost entirely new if you consider the fact that names like Vincent Kompany, David Silva, Yaya Toure and Sergio Kun Aguero are still in there. There are now full-backs whose primary assignments seem to be either bombing forward or threading "wicked crosses" into the opposition 18-yard box.
What else about this team?
Pep Has Found His Messi.
And this one wears the No. 17 jersey with the name Kevin De Bruyne on it. In one way or the other, any Pep Guardiola-led side has always been pivoted on a certain player who knows how to own the ball and use it to the advantage of the whole team.
In Barcelona, it was Lionel Messi. In Bayern Munich, I think the closest name to something like this was Thiago Alcantara/Arturo Vidal – please correct me if I'm wrong. Now that the Spanish gaffer is in a new city, he has found himself a man around whom he's gradually building his "new City."
https://twitter.com/Squawka/status/909062008733143041
It has not only been about the assists for a man who seems to create a goal scoring opportunity every time he has the ball in the opposition's final third. It has been about his movements off the ball, how he creates space for himself and his eye for a good pass when he smells the opportunity to thread one.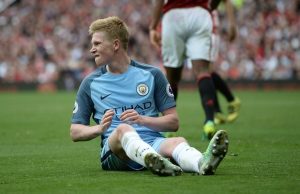 De Bruyne is the oil that makes Guardiola's City function properly and effortlessly. The Belgian must have Sergio Aguero and Gabriel Jesus thanking their stars for the opportunity to play alongside such an awesome midfield maestro. He may not be Lionel Messi but he's the closest thing to Barca's No. 10 for City.
And Pep is more than happy with that.
Forget Everything You See On Paper…
…or on social media about how Manchester City set up when they play. It is usually either wrong or is fiddled with whenever the Cityzens get into full flow. It's sometimes hard to tell who's playing where, something most opposition have found difficult to play against.
In their R.A.M.P.A.N.T display against Watford where they scored three goals in each half, Pep seemed to tinker with each forward-playing Cityzen's position. Of course, the position of the likes of Nicholas Otamendi and John Stones was obvious. Fernandinho shuffled between being a defensive midfielder and a centre-back, sometimes being a part of the 3-man defense line.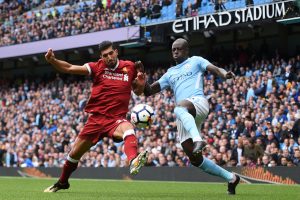 Mendy and Kyle Walker roamed the flanks throughout the game and Aguero was the point man upfront. But where did Raheem Sterling, Kevin de Bruyne and Gabriel Jesus play? It was a bit confusing at first. Sterling spent some time out wide, and then he sometimes played through the middle.
Jesus was either inside the opponent's 18-yard area or was dropping in deeper to "crowd" the middle of the park. Kevin de Bruyne was literally playing "the free role" which made it easier for him to control the pace of the game and harder for opponents to keep tabs on him.
Sergio Aguero
Say hello to the Premier League's highest scoring non-European of all time. If you asked Manchester City fans last season which player they'd have loved to see the management sell off, the Argentine wouldn't have been far away from the top of the list.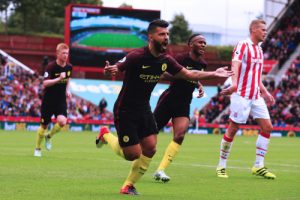 Don't get me wrong. After that "93:20" drama at the Etihad Stadium, Aguero instantly became a Manchester City legend. His goal scoring prowess and his ability to wiggle his way past defenders has further cemented this status since.
But in the 2016/2017 season, Sergio Aguero was sometimes wasteful in front of goal, especially when it mattered the most.
Yes, it was a regular season of 20+ goals and a bit of selfish play every now and then. But Maradona's son-in-law was not as clinical as he should have been up front.
Some months after and it seems the striker has found his clinical self again; that uncanny ability that makes him one of the deadliest in the league. It's hard to tell who this resurgence of form can be attributed to: the Pep factor, a competitor in the form of Gabriel Jesus or just sheer resurgence.
Manchester City is currently on a fine run of form. To think that Pep thinks this side "can still improve" despite scoring 15 goals in their last three games is astounding. It's hard to imagine how this juggernaut of a team can be better. It's a dreadful thought for the other teams that will be playing against them anytime soon.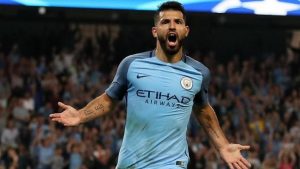 While I'm still wondering how the Premier League title contenders will fare against the top sides, Manchester City has jumped on a moving train. And I can't wait to enjoy watching other clubs try to stop them from getting their way.
Yours Football-ly,
Rotimi "Papi" Daramola.
P.S: What do you think of this Manchester City side so far? Do you think they can keep up this form? Share your thoughts with me by leaving me a comment. Also, don't forget to share with me your thoughts – or frustrations – as regards your favorite football club.
About Author
Rotimi Daramola aka "Papi" is the founder of ForTheGoal. A freelance sports writer who focuses on football, Rotimi is also a freelance writer, a copywriter and a football analyst who regularly appears on radio to talk football. You can follow him on twitter @rotdav to keep up with his writings and also find out about how you can secure his writing services.
Comments
comments