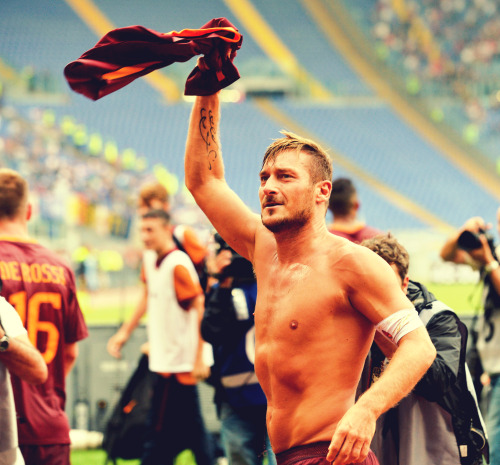 "Roma was more than a football club for us (his father). It was part of our blood, our family and our souls. Rome is the sea, the mountain, the monuments. Rome to me, is the world. This club, this city, has been my life"
A week ago, Francesco Totti scored his 250th Serie A goal for AS Roma – becoming only the second player to achieve such sensational feat – and on Tuesday, he celebrated his 40th birthday. The tributes had flowed and are still flowing.
Quite established, Totti is one of the greatest players to have graced the sport. The veteran striker has been in the game for a long, long time and has united generations with his supremacy; Great-grandfathers, grandfathers, fathers and sons have watched him play.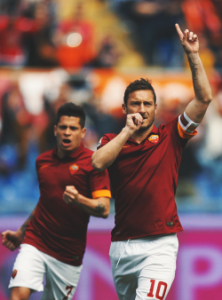 Totti's trophy room is one many players would be envious of, winning the Scudetto in 2001, two Coppa Italia (2007-08), two super Coppa Italia (2001,2007) and ultimately lifting the World cup trophy with the Italian national team in 2006. He was famously named officially as the captain of the Roma team at the age of 22 and has scored a remarkable 306 goals in 763 matches for his club whilst being capped 58 times for Italy, finding the back of the net nine times in the process.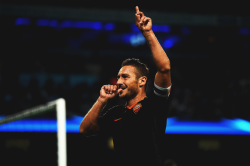 Nearly a quarter of a century after his debut back in 1993, Francesco Totti is still very much the chief protagonist in Rome. While it has not always been smooth sailing for the forward as he has been faced with some trying times like every other human being: He phased through a career threatening injury in 2005 which almost ruled him out of Italy's title winning campaign and only last season, he was barely featuring in games.
But he's still here. His renaissance has always been remarkable. Former Italian national team manager, Lippi, referred to him as a 'monument', yet he is more! He is a stoned document. A rare piece of art. Every single time it seemingly looks like the end for the 40-year old, like the phoenix – Francesco Totti will always rise again.

The man has endeared himself to the people of Rome so much so that streets have been named after him, fathers have christened their sons after the veteran. The girls aren't even spared! The city of Rome has its place in history as one if not the greatest empire man had ever known. Fast forward to the present day and the city, sadly isn't what it used to be.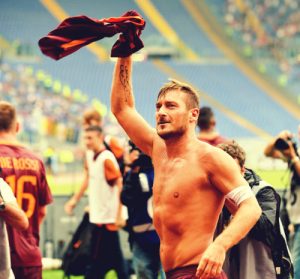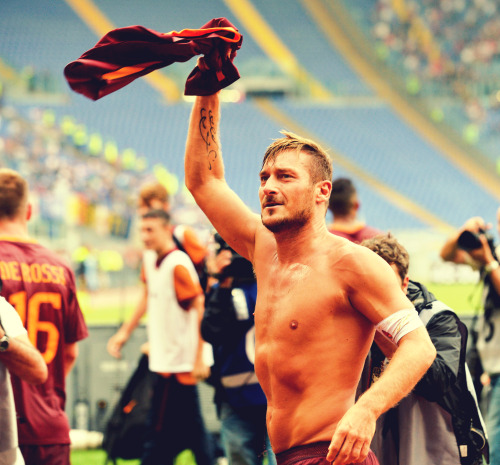 Faced with socio-economic and cultural problems, football has become the ultimate reprieve for the sons of Rome. Obviously, Totti was never synonymous to the brutal dominance the city had witnessed back in time, but it is hard to speak of the city's history without mentioning 'Er propone' as he is fondly called. If Rome is the eternal city, Totti is its eternal leader. He famously turned down moves to Manchester united, AC Milan, Inter and Real Madrid to remain at his beloved Rome.
'El capitino' is also well known for the placenta-esque emotional attachment he has with the round leather sport. When Roma won the Serie a title back in 2001, the living legend was visibly lost in the crowds and had to be searched for by security personnel before being escorted away from the pitch. He can score outrageous goals and give super outrageous assists. Totti had always been a different breed of strikers in football.
Presently, under manager Luciano Spalletti, the striker has been reduced to brief cameos from the bench but if he keeps impressing like he has recently been doing, I don't see why a permanent starting spot won't be on the cards here. He made his first start in over a year last Wednesday against newly promoted Crotone and reminded the world of his unquestionable talent with a trademark defense-splitting pass/assist for Edin Dzeko, and then on Sunday, he was coming off the bench to score his 250th league for AS Roma.
Although he was never quite the explosive player in his youth days, Totti's style of play has transformed over the years; his football is more refined, conservative and ridiculously calm. The man is a moving truck of experience. Sadly, at 40, and current pace, he doesn't have five more years to play football.
So I reckon you enjoy this legend whilst you still can (and that's to you, Luciano Spalletti) for his lengthy career is winding down. Football will cry the day the inevitable happens and Francesco Totti finally hangs up his boots, but until then, keep going strong you fighter. Keep going strong for all your outstanding mass of support in the universe. Keep going strong Francesco Totti – the king in Rome!
Article by: Jibril Baba, @jibril__baba
Comments
comments