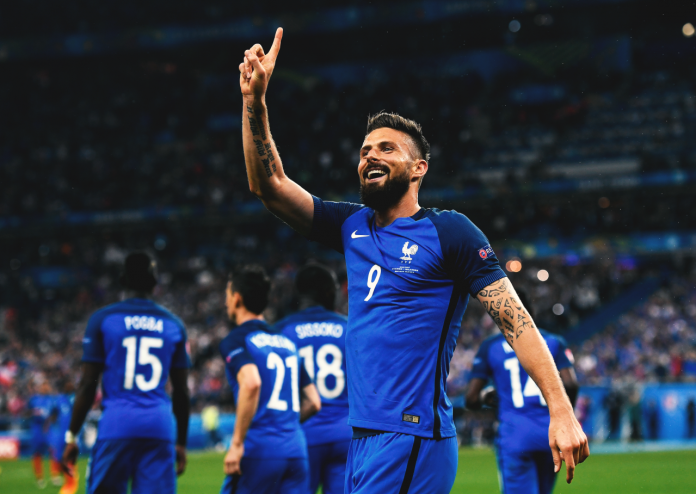 Once again revenge is in the air. The tournament's top scorers versus the meanest defense, two teams who have grown in confidence and quality as the tournament has progressed, two similar teams; dynamic and youthful but still with a lot of experience, the stage is set. Beware Les Blues, Die Mannschaft are coming.
It was the 13th minute 2 years and 2 days ago in Rio de Janeiro when Mats Hummels scored the goal that ended France's World cup hopes, now on home soil and with Hummels out through suspension France will be looking to get one over their German counterparts for the first time in a major competition since 1958.
KEY PLAYERS
Antoine Griezmann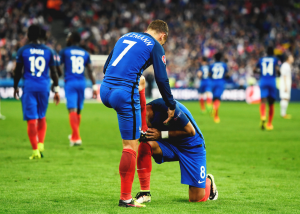 With 3 goals and 2 assists in the last 2 games, the onus has shifted from Dmitri Payet to Griezmann as France's talisman in the knockout stages. Operating as a second striker and feeding off Olivier Giroud's aerial and physical presence he has managed to slip unnoticed behind defenses that are too occupied with the big man to notice him. Proving to be an astute finisher with his left foot and equally dangerous in the air despite being only 5 ft 9 inches and the German defense will have their hands full with him.
Toni Kroos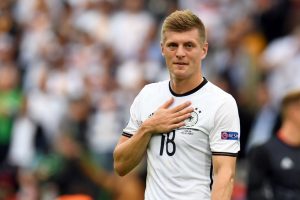 It was hard to pick out one player from a team whose main strength is how hard they work as a team (as their name implies), but I have gone with Kroos. The Real Madrid man will have it all to do after a performance against Italy that was by his standard a bit average. But we have seen him prove himself time and again and when he plays, Germany play. An important link between attack and defense, he is the one who dictates how they play and his delivery from set pieces could be a real danger to France.
TEAM NEWS
GERMANY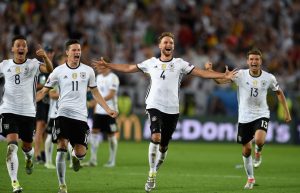 Hummels through suspension (2 yellows), Khedira and Mario Gomez who both got injured against Italy will miss out against France. The natural replacement for Hummels would be Howedes if Löw decides to revert to the normal 4 man defensive system as opposed to 3. Other possible replacements would be Valencia's Shokadran Mustafi or Liverpool's Emre Can. In midfield Khedira was replaced by Schweinsteiger for the remainder of the Italy match but his lack of pace may cause Löw to consider a tournament debut for Julian Weigl or Emre Can. No Mario Gomez might mean a return to the starting line-up for Mario Götze and a return to the false nine system Germany started the tournament with. Other options include playing Thomas Müller up front with possibly Andre Schürlee coming in. other options include Leroy Sane and Lukas Podolski.
France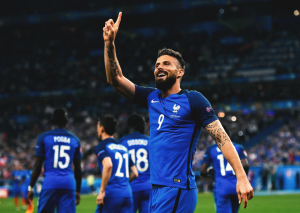 The return of Ngolo Kante and Adil Rami from suspension will likely see them return to the starting line up ahead of Sissoko and Umtiti respectively as France seemed to have settled on a permanent starting 11 leaving the likes of Martial, Cabaye, Coman and co with little chance of breaking into the starting 11 barring extraordinary circumstances.
MIDFIELD BATTLE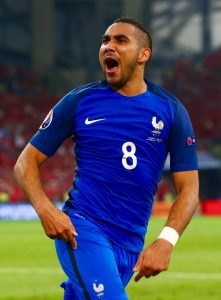 The key battle of the match will most likely be in the midfield. With Sami Khedira out through injury, it is left to Kroos and whoever Löw partners him with – Schweinsteiger, Emre Can or Weigl – to deal with the pace, mobility and strength of Pogba, Matuidi and Kante –who woud be well rested after missing the quarter final through suspension. They literally ran Iceland rugged and Germany will have to play at their full potential to not only cope but also dominate the midfield if they are going to continue their good tournament record against the French.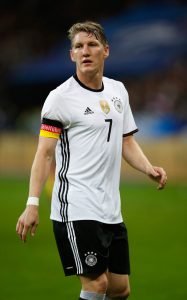 TACTICAL ANALYSIS 
GERMANY 
Will most likely deploy world cup winner Mario Gotze or Thomas Muller as a false 9 although Löw has surprised us before with his tactics. They will look to control play with their patient passing and wait for defensive lapses from France. Toni Kroos and co will need to make sure France see as little of the ball as possible and a more assured defensive display will be required of Boateng especially with the absence of Hummels. Joshua Kimmich and Jonas Hector will continue to bomb down the flanks to support. Payet in particular will need to be on his toes to stop Kimmich. They will also need their wide men to curb the runs of Sagna and Evra. Mesut Ozil will look to create and hope Gotze and Muller shed their goalmouth profligacy if Germany are to come out tops. Germany will need to end the tie in regulation time as another 120 minutes against a French side full of running may be beyond even them.
FRANCE 
What they lack in defensive discipline they make up for in midfield sturdiness and agility. With Kante mopping things up at the back and providing cover for the back 4, they will also look to Pogba to create things from deep in his new role, Matuidi will also be key in linking the two men and indeed the defense and attack. They will also need to find a way to stop Germany playing and also get on the ball against a German team that has had a tournament high average of 63% ball possession. Didier Deschamps might also look to deploy wingers to suppress the forward runs of the German full backs. The key to France's success going forward will be their ability to play without the ball as well as to get the ball to Griezmann and Giroud as quickly as possible. Germany would prefer the game to be over in regulation time, but although extra time may favour France, Penalties would not as Germany haven't lost a penalty shootout in any major tournament in my lifetime and probably in yours as well.
PREDICTIONS
The German team has looked head and shoulders above most in this tournament and has proved to be defensively and tactically disciplined, they are a purist's joy to watch indeed. Rarely messy, usually precise, only Italy have managed to really ruffle their feathers and despite a change in formation were only dragged into extra time by a moment of madness from Jerome Boateng. They look odds on favourites and will take some beating to be honest.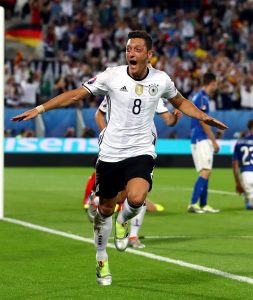 France have something that Germany do not have and that is the luxury of playing in front of their fans. What seemed at the beginning of the tournament like pressure has quickly turned into added verve for the French and the Germans will know of France's 17 game unbeaten run in major tournaments on home soil. France will need every ounce of support they can get from their 12th man at the Velodrome to overcome Germany.
I still however cannot look beyond Germany for this match. They seem to be in a class of their own and once the German machine gets going there is usually no stopping them. France will have to show a discipline and calmness in their game that I fear is frankly beyond them. The Germans have only fatigue to fear and an early goal could prove to be enough for them. France will be hoping not to see a repeat of the last time Germany played against major tournament hosts in the semi final. Perhaps a 1-0 win for Germany or maybe France will continue their remarkable home record. We can only wait and see.
Article By: Ayoola Kelechi, @ayoola_kelechi 
Comments
comments