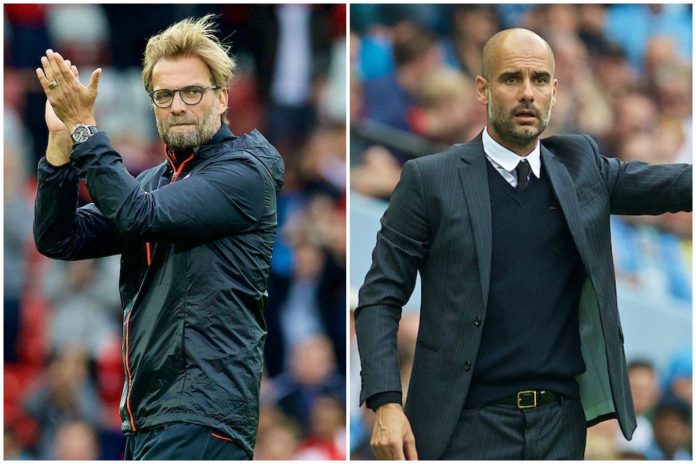 A world where grown men act like teenage girls in a cheer leading team. A small space crowded with oversized egos and an inflated sense of self regard. Add constant pressure from irrational billionaires and a few million fans, mind games. We also have facing a Tony Pulis team twice in a season and the small matter of winning football matches too. These are new realities for both the Liverpool and Manchester City managers.
It's been heart-warming to see the display of respect and mutual admiration between Pep Guardiola and Jurgen Klopp in the lead up to their teams facing off.
The Liverpool boss says Guardiola "deserves respect for choosing to test his fantastic career in the tough Premier League… He is a very influential coach with clear ideas and possibly the best in the world."
The City gaffer on his part enthused that "Liverpool are contenders, I know Klopp well, we've faced each other before and he has my respect." This love-in has left grown men the world over feeling warm and fuzzy on the inside. If only Arsene Wenger and Jose Mourinho would put away their diapers… never mind.
Both teams are separated by one point. Victory for the Reds will give them some breathing space as they will go four points ahead of the Citizens. Victory for City will take them two points above the Merseyside team. All is up for grabs.
Sergio Aguero returns from suspension for City. Guardiola will be hoping he hits the ground running. In his absence, City have deployed a striker-less system with the front three of Kevin De Bruyne, Raheem Sterling as well as Nolito/Leroy Sane rotating and taking turns in the central attacking position.
Expect changes in the starting XI. Especially in how the midfield is configured. If De Bruyne and David Silva are to reprise their "free eight" roles from earlier in the season, then only one of Yaya Toure or Fernandinho can start in midfield. This will in turn allow the use of Sterling and Sane/Nolito's pace against Liverpool's attacking full backs.
Meanwhile in defence, Stones is a doubt through injury while Vincent Kompany continues his medical vacation, recently joined by Pablo Zabaleta. Both will have ample time to reminisce on the fact they once shared a dressing room with Benjani Nwariwari. Nicolas Otamendi and Aleksandr Kolarov may likely pair in central defence for a team that has conceded in all but 2 league games this season. Woof.
Klopp's men are the league's top scorers with 45 goals in 17 games. An average of 2.6 goals a game. The Reds are an irresistible attacking force when they get into their groove, this, unfortunately for Guardiola is most of the time. It is also hard to resist the urge to giggle when watching them defend. However, Simon Mignolet has replaced Loris Karius in goal in recent weeks with more assured performances.
Ragnar Klavan has also deputised impressively for Matip (who misses out via injury), alongside Dejan Lovren in central defence. The pair have kept two clean sheets out of three games together. Aguero and City will provide their sternest challenge yet.
Jordan Henderson has quietly evolved into Liverpool's midfield linchpin, consistently orchestrating play from deep. It tells a story of the confidence his team mates have in him, a confidence which is not misplaced that he has completed more passes (1,366) than any player in the league this season.
Both teams will look to play on the front foot in the image of their manager's philosophies; Pep's control and Klopp's organised chaos. With brilliant attacking stars tempered by defences that are, well, not very good. There should be goals in this one. Cue fears of a dull goalless draw.
Please Fate do not be cruel, let goals abound and usher us into the New Year in good cheer.
Article by Ernest Bosha (@ernyy_b)
Comments
comments