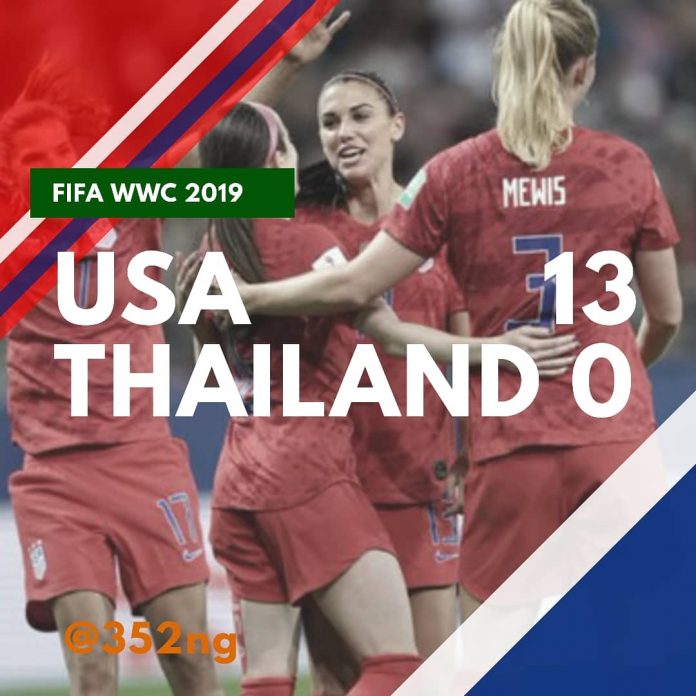 Round One of the Group stages is over and it ended with a bang in every sense of it (thanks to Alex Morgan and the USA)
Before we dive into the deets, I'll just say that this year's edition has been pretty amazing because it's been so unpredictable. From Australia's loss to Italy and Argentina's draw versus Japan, I bet we've seen some of our predictions go down the drain.
Today's games on the other hand ended as we all expected them to end. It started with a face-off between the reigning European Champions Netherlands, and OFC Champions New Zealand with the former running away with 3 points. The 1-0 score-line didn't do much justice to the performance of the Football Ferns anyway as they had equal attempts on goal as the Dutch.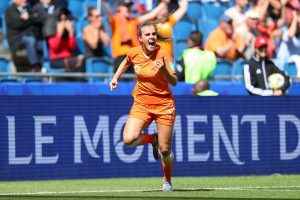 Ferns' striker Sarah Gregorius had a few decent attempts at goal but was unable to beat Sari Van veenendal. The Dutch too tried a number of times to break the deadlock but were also initially unsuccessful. It looked like the game would end with each team sharing the spoils but Super Sub Jill Roord had othe ideas as she put one past Erin Nayler in the final minutes of the game to break the Ferns' hearts.
This was an important win for the Netherlands as Canada also won their match against Cameroon and anything but a win could have skewed their chances of qualifying from this group. Now they only have to concentrate on winning their next match against Cameroon, to be guaranteed a spot in the Round of 16.
For the second match, two late goals were enough to see Sweden leave with all 3 points versus debutants Chile. The Scandinavians naturally did all the pressing but remember how we said to keep an eye on Christian Endler? Well, she played her part perfectly as she kept the Chileans in the game for as long as humanly possible.
In the 83rd minute, a little scuffle in the Chilean penalty area saw Kosovare Asllani finally put one past Endler. Then in the 94th minute, Madelen Janogy who'd just come on in the 81st minute to make her debut, scored an amazing solo goal to put the match to bed.
To end today's matches and round of group stages, USA faced off against the Thais. I think everyone saw how this would go with the Americans coming out on top and in the end everyone was right. The match didn't start too terribly as the Thais conceded just three goals (as South Korea and Nigeria did in their own matches), and even made an attempt at goal.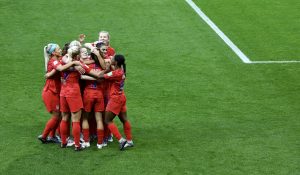 Alex Morgan opened the scoring in the 12th minute by heading in a Kelly O'hara cross. Then midfielders, Rose Lavelle and Lindsey 'The Great' Horan added two more before the break. The midfield affair continued in the second half with Sam Mewis also getting on the score sheet in the 50th minute.
Within the next 6 minutes, Morgan, Mewis and Lavelle each scored their second goals to bring the score up to 7-0. Then followed a slight Thai reprieve for a few minutes before Alex Morgan completed her hattrick in the 72nd minute it was all plain sailing from there. The match ended 13-0 (a new record winning margin) with Morgan scoring an extra two, and Megan Rapinoe and Subs Mal Pugh and Carli Lloyd getting on the score-sheet as well.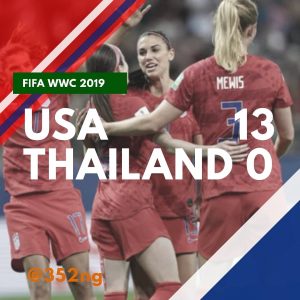 I believe that when we all saw Alex Morgan in the starting line-up, we guessed that she'd have a great time in front of goal today and she did. 5 goals and 3 assists were enough to earn her the payer of the match award. So far, Sweden and USA have lived up to expectations and regardless of the upsets that have happened in other groups, it seems like they would continue to perform as expected. The two teams don't play each other yet as Sweden play Thailand and USA play Chile on match-day two of Group F.
I reckon that we'd see USA defeat the Chileans but maybe with a nicer score-line. The Thais will no doubt be disappointed with the scores today but they can try to hold up the Scandinavians as the Chileans almost did. They can try but they might not be too successful.
We go again with new Group stage fixtures tomorrow starting with Nigeria versus South Korea by 2pm Nigerian Time. Both teams would be looking to earn their first point(s) of the tournament. A draw, and they might just pack their bags and book their tickets back home.
Article By: Lucy Ukwa, @afrolucy
Comments
comments